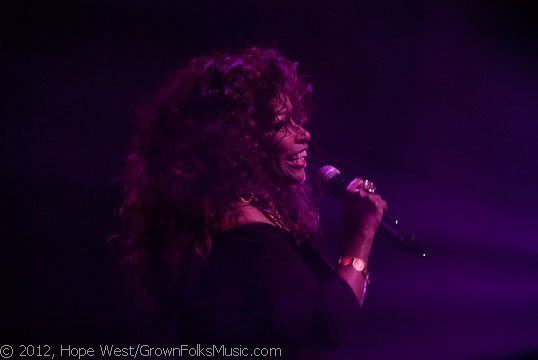 Hola, my fellow Grown Folks!!! It's you're favorite "concert traveler" here with some news you absolutely must use!! Ten-time GRAMMY® Award winner Chaka Khan is touring Europe and Asia October – November 2012. Chaka will join the David Foster and Friends tour in November.
Also, next year, 2013 will mark the 40th anniversary of Ms. Khan's career in music and entertainment. What does this mean, family???? It means Chaka Khan is working "them" pipes in the studio to bring us some BRAND NEW MUSIC!!! Can the church say AMEN!!!  The release will include a gospel and jazz project, an international and US tour and several other key events.
"Being in the studio makes me very happy," says Chaka. "I am so excited about the new music and the direction on this project.  We are having a super great time on tour and the opportunity to connect with my fans is one of the greatest gifts ever."
Check out Chaka Khan's tour dates below and for more information,visit her at www.chakakhan.com and follow her on Twitter @chakakhan.
Chaka Khan International Dates
10/15/12
Oslo, Norway
Foleteateret
10/16/12
Stockholm, Sweden
Hamburger Bors
10/17/12
Gothenburg, Sweden
Tradgar'n
10/19/12
Amsterdam, Netherlands
Melweg
10/24/12
Groningen, Netherlands
Oosterport
10/25/12
Zurich, Switzerland
Volkhaus
10/26/12
Berlin, Germany
Komische Oper
11/2/12 and 11/3/12
Singapore
The Star Performing Arts Centre
11/5/12
Bangkok, Thailand
Impact Arena
11/7/12
Jakarta, Indonesia
Ritz-Carlton Ballroom
11/9/12
Jakarta, Indonesia
MEIS
11/12/12
Tokyo, Japan
Tokyo International Forum
11/13/12
Shanghai, China
Shanghai Grand Stage

Hope is a music enthusiast and continual student of photography. Also known to rock out a quiet church or elevator with her current ringtone, Tom & Jerry's Uncle Paco, "Crambone".