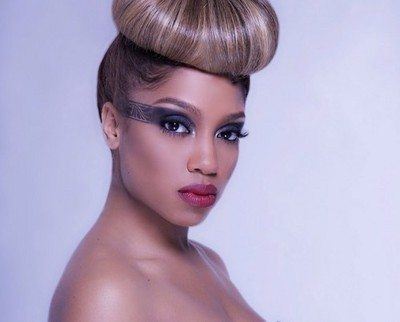 Singer Brooke Valentine returns to the music scene with "Don't Wanna Be In Love".
The Houston native is back after a brief hiatus with her sophomore effort, "Forever" (Subliminal Entertainment), an album layered with hypnotic and harmonic overdubs. "Forever" is a composite of dazzling club anthems, powerful R&B joints, emotive ballads and mid-tempo tracks – a comprehensive expression of Brooke Valentine's life experiences. The title track and first single was released in spring and highlighted a "family is forever" theme, featuring the vocalist's 2 year old son, London. Valentine says the writing of "Forever" was extremely organic, almost accidental but was taken to the studio and later mixed by DJ Quik who was responsible for engineering 11 other songs off the new album.
Stand-out tracks on the album include, "In the Air," an ultra dance-driven tune laced with a spiritual theme. On the darker melody, "Down for the Count" Valentine sings about losing her step, following in love and allowing herself to surrender. "Selfish Lover" exemplifies the singer's vocal range, showing off her chops while expressing anger at a self-centered man. The Toni Braxton inspired "In My Bed" proves to be a melodic masterpiece showcasing Valentine's vulnerable and passionate side, centered around letting someone back in your bed who you know you shouldn't. "I Love You" is dedicated to Valentine's cousin who was tragically murdered in March 2008 – inspiration for this song also manifested from Hurricane Rita which hit Houston and devastated her family's communities. "Insanity" is one of the more eclectic songs, with a classical music flavor and theatrical underpinnings – it's a serious track where Valentine sheds light on domestic abuse she experienced in her youth.
After listening to Forever fans will be greeted with a refreshing, realistic and expressive musical palate – Brooke Valentine has managed to thread a spiritual and emotional symmetry into her sound, while still keeping it bangin' for the club goers. Her music is an organic experience- a hybrid collection of up-tempo jams and fluid slow grooves that artistically join her sleek voice with intoxicating melodies. With such audible pleasantries and a ravishing sensual appeal, Brooke Valentine is sure to expand her fan base to include a broader more discriminating audience of taste makers and music lovers around the world.
The second single "Don't Wanna Be in Love," written and produced by Deja the Great is a sensual mid-tempo ballad layered with harmonies over a backdrop of driving strings; underscored further by the usage of Isaac Hayes' ominous classic, "Walk On By".
"Don't Wanna Be in Love" is available for purchase at Amazon.com.
Also, check out the video for the title single "Forever" dedicated to her son:
For more information on Brooke, check out her official website, her Facebook page, or follow her on Twitter.
Press Release excerpts courtesy of Helio Pr