#Growns we wanted to put you up on some summer gear that at once is all about the relaxed vibe and a true GFM inspiration – Sade. Babes and Felines which has just launched their 2018 summer collection. The new collection features a line of tees featuring images of Sade. Both the Relaxation Tee and the Meditation Tee feature Sade in poses from an iconic 1985 breakfast in bed photo shoot, lensed by photographer Jean Claude Deutsch.
Babes and Felines is the creation of Houston, TX bred Ciera Rogers. Rogers was reared in a household where utilizing various approaches to engage one's creativity was not only encouraged – it was a way of life. Her mother, a local jazz singer and background vocalist to Patti Labelle was constantly on the search for a unique off-the-rack style that added an aesthetic distinction as colorful and classy as her voice. In the midst of that sartorial search, a young Rogers often found herself in tow. Her mother opened a vintage clothing store Fashion Plate – a rare installment in the landscape of Houston. She soon expanded her creativity by designing clothing. Soon after earning a bachelor's degree in public relations and marketing from the University of Houston, Rogers set her sights on Los Angeles. After an unrequited pursuit of opportunities in public relations, she made the bold decision to pivot into a career as a fashion stylist.
Groomed with a knack for blending eye-catching color palates and textures, Rogers soon found herself styling fashion shoots for major publications such as Vogue Italia. Retrofitting her Houston thrifting training with a 21st-century moxy, Rogers launched a virtual vintage clothing store on Instagram in 2012. But upon entry, she found the realm overcrowded with purveyors of repurposed threads. Subsequently, she launched Babes and Felines in 2013.
For more information about Babes and Felines go here.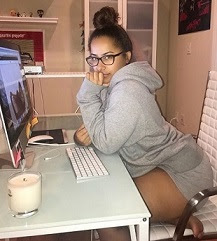 Follow Babes and Felines
Instagram: @babesandfelines
Twitter: @Babesandfelines