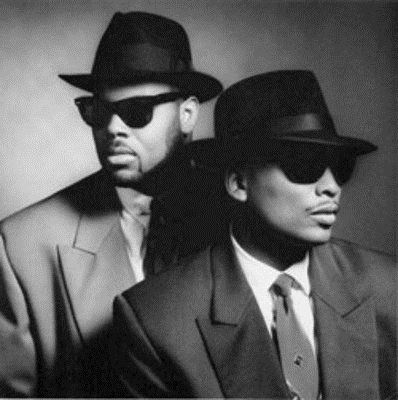 Jimmy Jam and Terry Lewis are the epitome of musical brilliance and can be easily likened to a modern day Gamble & Huff. While "The Sound of Philadelphia Soul", TSOP, was known for their string and bass arrangements, the Minneapolis Sound was further cultivated through a more pop, rock and faster paced funk. Working under the influence of artists like Cornbread Harris, Sly & The Family Stone, Parliament-Funkadelic, James Brown and many others, the duo formed the group Flyte Tyme with band mates Jellybean Johnson and Monte Moir but was later incorporated into the group, The Time led by Morris Day. During this early formulation, Prince was very instrumental in the songwriting and production of the group's sound. While their songs and stage appeal gave them great success, it did not last long due to growing creative tension and their restriction to write material for their own album or the album of other artists. Despite certain limitations, Jam & Lewis took the gamble in writing for the musical group,  The "Sound of Success" Band or better known as the SOS Band with the incredible hit Just Be Good To Me.  At the boiling point of the relationship and unfortunately missing a show due to a blizzard in Atlanta where they were recording, the duo was fired by Prince due to their outside production. For some this may have been the end, but for Jam & Lewis it was only the beginning. With the success of Just Be Good To Me reaching #2 on the R&B charts, it opened the windows of opportunity for their musical career. For a span of almost 30 years, Jam & Lewis have worked with legendary artists like Janet Jackson, Michael Jackson, Barry White, Alexander O'Neal, Chaka Khan, Klymaxx, Cherrelle, George Michael, Yolanda Adams, Usher and New Edition just to name a few. Not to mention winning countless Grammys including Producers of the Year, beating producers David Foster and Paul Simon, Jam & Lewis have made an undeniable mark in music as songwriters, producers, record execs and musicians.
From a personal perspective, these men have been by musical icons from my earliest knowledge of music. I've always admired from afar their honest approach to music. As a former band geek, I've been in awe of  their song arrangements and how they could tailor fit a song appropriately  for the lines and curves of an artist. In today's mainstream perspective to music,  "branded" in the narcissistic view of  music production, Jam & Lewis bring something rich and timeless to their songs. Through their musical outlook, you truly hear the tones and melody of an artist life.
Here is The Original 7ven's Jam & Lewis with Video Soul's Donnie Simpson as they give the rundown of their angle to mixing with Morris Day's song, Fishnet. And if you missed it, be sure to catch the exclusive GFM interview with Jimmy Jam.

Hope is a music enthusiast and continual student of photography. Also known to rock out a quiet church or elevator with her current ringtone, Tom & Jerry's Uncle Paco, "Crambone".