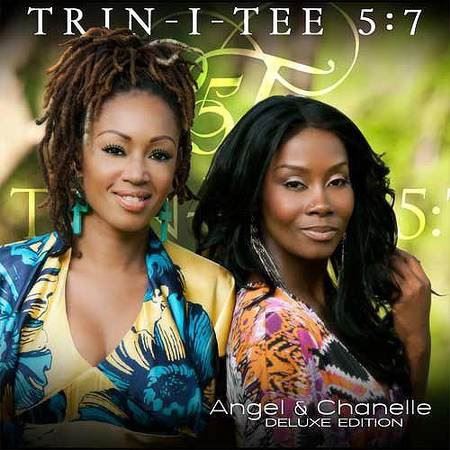 Exemplified by a season of transition, Trin-i-tee 5:7 is back with their 5th album release, Angel & Chanelle. While the group is known for hits like God's Grace, Holla and Listen, their latest project not only brings those familiar elements to the table but raises the brow with some fearless moves. Coated with an assorted mixture of sounds, the newly evolved duo carry a message of God's acceptance and embodies that spirit through this illuminating album.
Angel & Chanelle have a number of good cuts but there were a few I had to place on my "play dat one mo' gin" list. The opening cut, Heaven Hear My Heart, is a mid-tempo tune that carries a very hypnotic cleverness. The beat has an arousing energy coupled with this alluring French translation of "I love you" spoken as "Je vous aime". The Surefire Music produced, I Need You Now, has a thunderous and dramatic feel stained with the humbling call of a broken spirit asking for God's hand. While the duo could have easily overemphasized their vocals, their softened flow proved to be equally effective in presenting the emotional and spiritual plea of the heart. Another song that urged my admirable expression, was their remake of The Cross from Prince's Sign O' The Times album found on Angel & Chanelle's "deluxe edition" CD . In this particular cut, it was almost as if I heard flickering shadows of Tina Turner in Chanelle's voice in certain vocal registers blended with Angel's soulful soprano. For taking such a bold step in doing an edgy song that doesn't fit within the normal realms of "urban contemporary" or "traditional" gospel music yet equally elevating the importance of "the cross", I am delightfully inspired by their choice of doing this song for their album. Another cut from the "deluxe edition" was the impressive Drops Of Rain. Produced by David Mullen, this song is a strong crossover piece for the group. In listening to the song, it stirs feelings of a chasing storm but not from the standpoint of  adversity but the merciful "drops of rain" God gives us each day. The beauty of this song will change the way you see a rainy day and the child-like wonder of dancing in its showers.
Resilient in the face of change, the duo channel an attractive affirmation in what makes them special. With a combination of urban contemporary, traditional, hip hop, pop, and alternative rock, Angel & Chanelle is an album rich in diversity. Staying true to their roots, this album shows they aren't afraid to 'let it go" and step out on "a new day".

Hope is a music enthusiast and continual student of photography. Also known to rock out a quiet church or elevator with her current ringtone, Tom & Jerry's Uncle Paco, "Crambone".