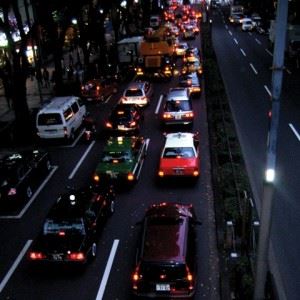 A few months ago I was casually perusing my Twitter feed when a few buzzwords flashed up on my screen: Prince, ?uestlove, Purple, to say the least I was intrigued. Upon further investigation, I was pleasantly surprised to hear (and download for free on nicolaymusic.com) an incredible take on the Prince classic "Take Me With U". "Purple Flip" is a collaborative effort between the aforementioned
?uestlove, Nicolay, ZO!, Phonte and Carlitta Durand it was my first and brief introduction to The Foreign Exchange family. I filed a card in my mental rolodex and made sure to follow the tweeters in question. Fast Forward a few months and I have now added a new buzzword to my musical vocabulary: SHIBUYA.
City Lights Vol. 2: SHIBUYA is the latest offering from Nicolay, the multi-instrumentalist/producer/DJ and one half of The Foreign Exchange with rapper/singer/songwriter Phonte. This marks the fourth solo outing for Nicolay and is the third recording in a series of projects (Time: Line and Leave It All Behind) influenced by his first visit to Tokyo in 2006.
In the truest sense of the word City Lights Vol. 2: SHIBUYA is a story. This recording, like all great stories, has a definite beginning, middle and end. SHIBUYA should be listened to in the same manner as we experience a great story: front to back, cover to cover and beginning to end. To experience it any other you may run the risk of missing the big picture, because SHIBUYA is much more than a series of instrumentals with a few vocals sprinkled in for good measure.

It is the musical equivalent of "I just returned from the most amazing place!" but instead of firing up powerpoint to tell us all about his trip, Nicolay gifts us with the sonic equivalent.
This homage to the fashion and nightlife center of Tokyo employs all the characteristics of classical program music, from the first note the listener is transported to the middle of this bustling metropolis. The set opens with "Lose Your Way" featuring Carlitta Durand with the lyric penned by Phonte. "Lose Your Way" gives the listener the feel of the push and pull of making your way through a crowd in a new place. Lots of rhythmic tension throughout with on the beat and off the beat obligato patterns. The track is topped off with Durand's smoky, airy vocals which are tailor made for the harmonic stacks produced. As the journey continues the lyrics and music invoke the mantra "fade away"the production here is inspired as we can hear and experience the sound of the traveler moving from the sound of the street to sterile controlled sound of the station.
Once we have arrived inside "Shibuya Station" we are greeted with a big sounding instrumental that sounds like it is telling us that "you need to get there(wherever there is?) by starting here." A constant left/right walking pattern gives us our pulse which is a pace as frantic as Shibuya Station itself. Nicolay employs handclaps which gives the impression of the clicking of heels hurriedly trying to make it through the station. The movement of the train in this track harkens back to the opening bars of the Ellington classic "Daybreak Express".
"Rain In Ueno Park" is another standout track. It is at once a mix of western sensibilities with eastern motifs. There is an unpredictable cadence of thunder, sprinkled with raindrops as the sun appears at the end. It is this fusion of traditional, and contemporary, east and west which is an overarching them throughout the project. It is this attention to detail and subtlety that delights and challenges the listener.
When we arrive at "Wake Up In Another Life" it feels that we have reached that point in the journey where we have a moment to reflect on the experience before we must return to our more familial home. It is both upbeat and pensive track and features great vocal work by Carlitta Durand and Victor St. Clair and a beautiful piano break from The Foreign Exchange live band member ZO!
The sound of SHIBUYA is one of a producer having the freedom to say and do what he feels musically and make absolutely no apologies for it. Nicolay within in the course of this project breaks with and expands on convention. The drums sounds are big but there's something else going on(expanding conventional drum sounds). That groove is so phat but there's something else going on(breaking with convention by using other time signatures than the ubiquitous 4/4). It is a freedom that is personal, a sound that is personal, and a story that is personal. Most importantly it is an experience that Nicolay has made personal for all of us by documenting it in this manner.
As rating systems go I'd like to throw my own idiosyncratic offering into the fray. I like to use what I call the bar system. 2bars= Don't even bother. 4bars= On the way but you haven't moved me fully yet. 8bars = Well worth the price of admission. 12bars = Why are you reading this when you should be purchasing and listening to this music right now.
Shibuya (City Lights Vol. 2) 12 bars hands down.
Ivan Orr is a multi-instrumentalist, composer, performer, and writer. A native of Charlottesville, Virginia Ivan was involved with the forming and nascent days of The Music Resource Center as its first Program Director. A graduate of Virginia Commonwealth University's Department of Music, Ivan currently resides in Richmond, VA where he maintains an active performance and production schedule while serving as the Music Editor for Grown Folks Music, a position he has held since 2010.