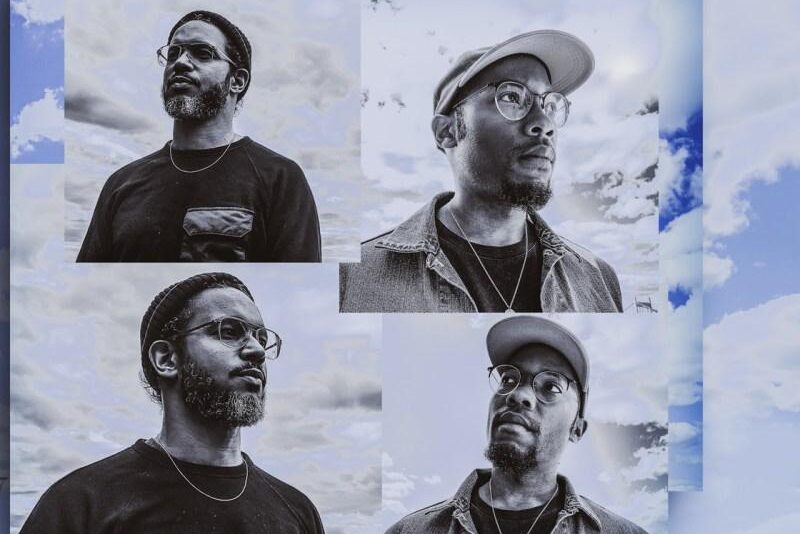 #Growns these last going on six months are more than just a moment. For many of us it will be our(or at least a) defining moment, and we have yet to reach (I believe) that depth of darkness that we can feel right before the dawn. What do we need? Well, in some ways we need it all and in some ways(and days)we need nothing. But I think we can all agree that on the side of all, we can never have enough great music. FKAjazz and Leo Coltrane are bringing a sound that is in sync with the times. "Nothing At All" allows room for the listener to be at once transfixed by the sonic three act play that is this the 3-part extended single. Each part of this offering has its own musical personality yet there is no mistake in the relationship, the DNA runs right on through.
"Nothing At All" by FKAjazz features an ethereal, melancholy vibe with poignant Hip Hop lyrics by Leo Coltrane. New to the FKAjazz roster, Leo Coltrane is a native Brooklynite named after jazz icon John Coltrane & French singer/composer Léo Ferré, lyrically masterful with a smooth flow reminiscent of MC's like Ishmael "Butterfly" Butler of Digable Planets or rap group Souls of Mischief. "Nothing At All" also features Justin Swiney newly aliased by the named "Unkle Nephew" on drums as well as Noah MacNeil on piano; 2 of the mainstay musicians in the Trew Culture Collective (www.trewculture.com).
Full Credits: Samir Zarif aka FKAjazz – tenor saxophone & various keyboards (all tracks); Leo Coltrane – voiceover & Hiphop lyrics (tracks 1 & 2), Noah MacNeil – grand piano (all tracks); Justin Swiney aka Unkle Nephew – drums (all tracks) | Production & Composition: FKAjazz | Mixing Engineer: FKAjazz | Mastering by Joe Lambert Mastering | Artwork by Samir Zarif
About FKAJazz
Originally from Houston, Texas, the musician/producer/writer Samir Zarif aka FKAjazz "first began catching the attention of many when he moved to New Orleans, where he performed often with the likes of Ellis Marsalis, Nicholas Payton, and the Jason Marsalis Quintet," as noted by Christian Wissmuller in JazzEd Magazine.
FKAjazz moved to New York in the early 2000s to attend the Manhattan School of Music garnering a decade of experience as a touring musician, music producer and for a short time, an Electronic Music Producer & DJ. Naturally, through this trajectory the artist evolved beyond the cliched expectations of what it means to be a "jazz musician." Christian Wissmuller later states, "FKAjazz [is] moving jazz forward even further into new and exciting territories, incorporating elements of hip hop, traditional jazz, R&B, and other musical forms." However his perspective goes further than just adding modern elements to what may be perceived as traditional music. He made that clear in a live interview on BRIC TV's B-Side by saying, "my goal is not to just pay homage to the foundation of jazz but to all Black American Music." Therefore, to FKAjazz, his music is built on the foundations of jazz music and everything that came thereafter.
A new scene of jazz musicians taking up the mantle as the producers and tastemakers for popular music around the world has slowly been on the rise since the early 2000s. Forerunners like Robert Glasper and Chris Dave who spent much of their early careers working with artists & producers such as D'Angelo, J Dilla, & The Roots, have increasingly sparked a new generation of musicians & producers. FKAjazz is without a doubt taking the reins as one of it's new frontmen. FKAjazz, whose background is reflective of Glasper & Dave, is not only a fellow Houstonian but is also from the same performing arts high school, HSPVA. In a nutshell FKAjazz music can be characterized as Hip Hop Jazz; not to be confused with Jazz Hip Hop, the latter being Jazz influenced by Hiphop versus the other way around. "Going up at the height of 90s Hiphop & R&B while simultaneously studying Jazz music gave me a perspective of the music many of my cohorts have used in different ways. As someone that has spent many years as both a jazz saxophonist & my own producer, I feel like I have the facility to bring something fresh to the table," says FKAjazz.
And that he has indeed. As United Press International stated, "[FKAjazz, a] triple threat Musician/Producer/Writer doesn't disappoint. This is clearly a man on a mission. He takes traditional jazz and twists into a force that is uniquely his own. He fearlessly plays with precision and a passion that takes you on a musical journey like no other. As promised, there is Greatness here."
Ivan Orr is a multi-instrumentalist, composer, performer, and writer. A native of Charlottesville, Virginia Ivan was involved with the forming and nascent days of The Music Resource Center as its first Program Director. A graduate of Virginia Commonwealth University's Department of Music, Ivan currently resides in Richmond, VA where he maintains an active performance and production schedule while serving as the Music Editor for Grown Folks Music, a position he has held since 2010.