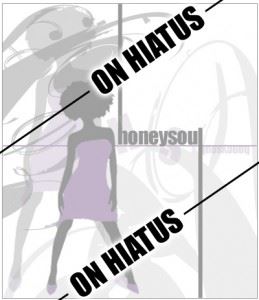 Yesterday was a sad day in the soul music world, as Honey, from HoneySoul announced her hiatus from blogging. As most of you know, for the last 5 years, Honey Soul has been THE goto spot for everything soul music.
In an industry full of negativity, sharks, fake everything and hype, she was that shining light with a tremendous love and passion for the music. It was always about the artists and the music. As a great songwriter does, she also made you feel like you were a part of the Honey Soul experience through her musings and personal tidbits. Indie artists in particular knew, when no one else was supporting them, Honey would, in a honest & professional manner.
Even if you never met her, you feel like she's a long time friend. She has been the premier the A&R/Promoter/Protector/Tastemaker  /Conduit/Product Manager/CEO of everything that is Soul Music and we're all indebted to her for sharing so much of herself, strictly for the love. I've been introduced to so many artists through her and still have no idea where she finds them all! Whenever we've been asked about an artist or song that we weren't familiar with…. our response: "ask Honey, she'll know"!

I'm not a writer or blogger, just a fan, a visionary trying to do our little part to give great music a voice. I'm not sure what the future holds for her, but we wish her all the best in whatever she does and hope she enjoys those well deserved vacations with her husband. That's really what it's all about. I don't claim to know much, but I do know that music, particularly Soul Music, is a jealous, all consuming beast that won't let you escape. (Selfishly), we hope she'll resurface around these parts soon. While there are many others who continue to support the music (see our blogroll for some examples), there is only one Honey.
Drop by Honey Soul, share your thoughts, immerse yourself in the archives and thank her for being her. We'll take her parting words as encouragement as well as encourage each of you to do what you can to do you, and keep great music alive!
"I hope that you will remember and continue to support the music and artists you discovered here. I hope you'll continue to spread the word about the best music in the world, soul. There are so many wonderful blogs and supporters out here I know I leave you in good hands. If you'd like to start your own journey to support and promote, just do it. If I can, you can too.

I'm going to quote myself (hey it's my last post I can do that). Anything great starts with love and visionaries see what's not there. Remember that and remember this. Don't accept the status quo. Don't listen to the negative voices around you and sometimes in your own head. Do make your own opportunities and make your decisions and choices based on love. I did and had the most amazing, life changing experience. Thank you for sharing it with me. See you later."

Lots of Love,

Honey
We'll leave you with a clip of one of her favorite artists, doing what he does best er, uh something! Fellas, isn't it good to see that he is human after all?
Permalink
Permalink