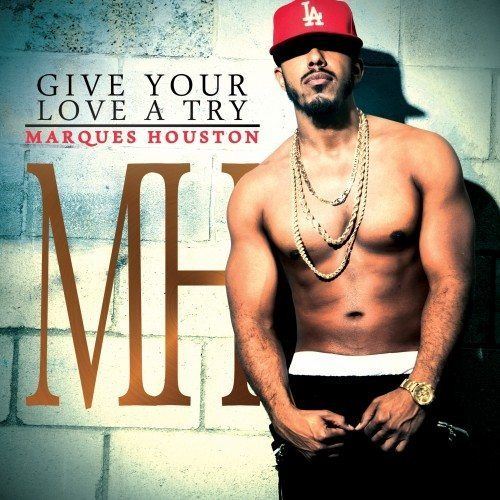 GFM Fam in anticipation of his sixth solo album Marques Houston has just dropped the new single "Give Your Love A Try" Feat. Problem which you can check out below. "Give Your Love A Try" is starting to pick up some steam on Urban Radio and you can purchase a download of the track here. FAMOUS from Marques Houston drops on On August 27, 2013
From the press release…
Multi-talented singer, songwriter, and actor Marques Houston is heating things up in 2013. The dynamic artist will release his sixth solo album, FAMOUS, embark on a thirteen-city tour this summer with his all-female backing band and star in a new role on the UP TV movie The Love Letter (August 2013). Marques' new single, "Give Your Love A Try" featuring Problem is building well at Urban Mainstream Radio. Marques Houston has been making his mark on the entertainment scene ever since his breakthrough at age twelve with the hit-making male R & B vocal group Immature. He went on to launch his own highly successful solo career, notable for his 2005 album NAKED, which shipped over 500,000 copies, thanks to the Top Ten hit title track. Simultaneous with his music career, Marques has been instantly recognizable thanks to his acting career which found him playing notable roles on television such as "Roger Evans" on the hit ABC series Sister, Sister and his own series Cuts. He also starred in such feature films as Fat Albert, You Got Served (which grossed $80 million aggregate revenue), The Somebody Help Me Franchise and Battlefield America. On August 27, 2013, Silent Partner Entertainment/Shanachie Entertainment will release Marques Houston's new album FAMOUS, which takes his artistry to the next level with a sensual, evocative Marvin Gaye meets D'Angelo feel.
"I wanted to do an album for my fans," Marques confides. "I took some time away from my music to focus on my acting and producing films but because of my Twitter ( https://twitter.com/marqueshouston), Facebook (https://www.facebook.com/MarquesHoustonMusic) and Instagram ) blowing up with all my fans requesting new music, it gave me the motivation to get back in the studio."
Indeed a viral leak of his song/video "Speechless" ) from the new album is already approaching 1,000,000 aggregate views on VEVO. "Speechless" is generating rave reactions to his vocal performance on this tune. Indeed it is the sensual, emotional vocal performances on FAMOUS that set it apart from the pack, especially in a time when accomplished male R & B vocalists seem to be in short supply. The first single, "Give Your Love A Try" featuring native Los Angeles rapper Problem promises to be a chart topping hit that exhibits Houston's fresh new sound! The thirteen-city major market tour will coincide with the album's release. Marques also plans on rocking the clubs with "UnPlugged"-style jam sessions. All in all, 2013 promises to end up as a banner year for one of the best of R & B's "new generation" vocalists.
Marques Houston puts it simply and directly: "If I was going to make another album, I wanted it to be a classic…timeless!" FAMOUS promises to deliver that and more.
Ivan Orr is a multi-instrumentalist, composer, performer, and writer. A native of Charlottesville, Virginia Ivan was involved with the forming and nascent days of The Music Resource Center as its first Program Director. A graduate of Virginia Commonwealth University's Department of Music, Ivan currently resides in Richmond, VA where he maintains an active performance and production schedule while serving as the Music Editor for Grown Folks Music, a position he has held since 2010.