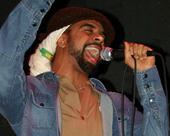 Darien is back with a blazing new single, "Can't Hide", produced by SoulPersona, guaranteed to be a club banger. It has a definite Euro club feel and great vocal production.  You can check it out here on the Son of Soul Podcast, straight from the UK (Podcast #47, Track 1). NYC stand up!
From his bio:

Darien, an independent singer, songwriter and producer, has evoked the brilliance of original soul music of decades past. The incredibly gifted musician captures a breadth of emotions by telling honest and complete stories. Darien's tales are so rich and soulful you can envision every verse. The Mount Vernon native has performed all over New York City including Joe's Pub and S.O.B.'s to audiences who are awestruck by his ability to match emotions to authentic lyrics.

Independent artists are often compared to big name singers to give context for their sound. Darien's music stands on its own. The tone and thickness of his voice, his phenomenal range, and his unique poetic ability are more comparable to the era of old soul than any one vocalist. He is an exceptional wordsmith whose music has hypnotized audiences from New York to DC to Europe.

Beginning in 1997, Darien was entrenched in music with his hip hop group, The Colab. His power on the mic exposed him not only to New York crowds at the Elbow Room and at Lincoln Center, but it also allowed him to grow as a writer and producer. Darien has been a humble student of music, with broad influences that range from A Tribe Called Quest to Hall and Oates to Donny Hathaway, the roots of Darien's music are grounded in quality.
Mike Ashely over at Life and Soul Promotions has a nice review of the album, If These Walls Could Talk.
If you're in NYC early next year, be sure to catch his performance at Blue Note on February 9th.  Support real artists — you can purchase his music here.

Source

Ivan Orr is a multi-instrumentalist, composer, performer, and writer. A native of Charlottesville, Virginia Ivan was involved with the forming and nascent days of The Music Resource Center as its first Program Director. A graduate of Virginia Commonwealth University's Department of Music, Ivan currently resides in Richmond, VA where he maintains an active performance and production schedule while serving as the Music Editor for Grown Folks Music, a position he has held since 2010.