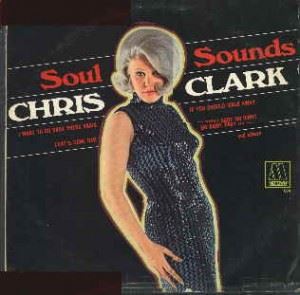 This is a great post from Linda Postenreieder @ Petaluma360 regarding the re-release of Classic Motown artist, Chris Clark's "Soul Sounds", who's finally getting her well deserved props.
The event is sold out, but here's the link to the Pelican Art Gallery. More after the jump.
Berry Gordy, Motown's founder states "I think Chris Clark is one of the greatest white authentic blues singers of all time. I was fascinated by her phrasing, her subtlety, her wit and her unadulterated soul. I hope this re-release will bring her the recognition and audience she deserves."

As Motown celebrates its 50th Anniversary, Reel Music, by arrangement with Universal Music Group will be releasing Chris' classic 1967 album "Soul Sounds" on CD for the first time in the USA in April 2009. Join Chris Clark at the Pelican Art Gallery to celebrate the exclusive pre-release of this CD on March 21st, 2009 from 2 – 5pm.

If there's a defining presence to Chris Clark, it's that her talent has it's own unique vision. In the recording studio, on the pages of a script, on a proof sheet, or splashed across canvas, hers is a voice that resonates with individuality. As a long time member of Berry Gordy's handpicked creative team, Chris's skills were honed in the fast moving, highly competitive atmosphere of the early Motown years.
"Love's Gone Bad" (Lamont Dozier, Brian Holland, Eddie Holland) Soul Sounds (Motown/1967)


The "Soul Sounds" CD includes songs such as Clark's 1965's "Do Right Baby Do Right" , 1966's "Love's Gone Bad" and 1967's "I Want To Go Back There Again." A previously unreleased mix of "Love's Gone Bad", recently discovered in the Universal vault, is included as a bonus track. These songs epitomize the musical talent that made her famous amongst the Northern Soul fans of England.

John Goddard, owner of the famed Village Music in Mill Valley, is another believer in Clark's rebounding music career. Goddard was instrumental in arranging a sell out crowd for Clark at Sweetwater in Mill Valley in 2007. "Her talent, to me, is amazing" says Goddard of Clark.

Clark's visual artwork, celebrating Motown's 50 Anniversary along with Black & Women's History Months, can be found at the Pelican Art Gallery. Armed with a camera & Gordy's scrutiny, Clark's artwork has it's roots in photography. She managed to chronicle close to 16 years of Motown history, capturing the candid moments through her soulful view. Clark merges the emotions & beat of these photos by working her digitage magic through a combination of montage and image sculpture using digital techniques. "We believe that history will look back at this period of development of digital art and chronicle Chris Clark as a pioneer of this art form." Gleams Linda Postenrieder, co-owner of Pelican Art Gallery. "Chris has such a rich artistic skill set in photography, choreography, composition, color management, writing and music. These skills combined with her life experience give her a distinctive and powerful position with her art."

Clark's visual art goes beyond Motown. Camera by her side in Africa, Clark snapped thousands of pictures of the native people, land and animals used in her potent "Journey to Africa" series. The colors and images in these art pieces again open the mind in imagining, even feeling, the beat and energy of the moment. The Clark exhibit Celebrating Motown's 50th, Black History Month & Women's History Month will be on display at the Pelican Art Gallery through March 29th, 2009.
Not the greatest picture, but it doesn't take away from that voice.