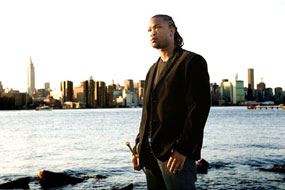 Dope video directed by Directed by Adam Barton & Sam Bathrick of Native Resonance off his new album, The Cycle of Love
. He's been getting a lot of buzz lately off this his sophomore album. A brief look at Maurice from his bio:
Maurice is an unpretentious, cultured soul with a strong musical backbone. Raised in south Chicago, Maurice was awarded a full music scholarship to Northern Illinois University upon graduating from Hillcrest High School. After winning first place in the esteemed National Miles Davis Trumpet Competition, Maurice found new flavor in the heart of Louisiana, where he continued his studies at Southern University—and captivated audiences weekly, headlining at New Orleans' premiere jazz club, Snug Harbor.

Maurice currently resides in New York where he is finishing his sophomore album, "The Cycle of Love", while immersed in a grittier urban setting. Expectations are high for the release, which will showcase Maurice's talents as a trumpeter, composer, and bandleader as well as the fierce, down-home melodies we love him for. Like legendary trumpeter, Clark Terry said, "Brownie is the young trumpeter to watch for sure. I see young cats all over the world and Maurice has it." And we want it.


Check out the album and follow Maurice here on Twitter.
Props to the guru Jamal Ahmad for the tip!