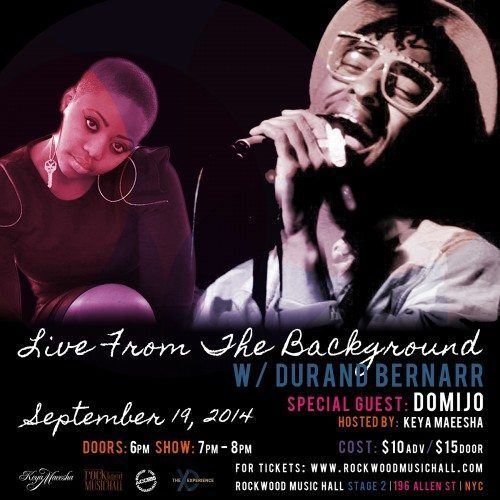 For tix:
Price: $10 adv/ $15 door.
Location: Rockwood Music Hall Stage 2 (196 Allen St., New York, NY)
Coming to the Lower East Side is a new event that will excite your senses and tickle your eardrums. Live From The Background is a new series that will highlight some of the most amazing and talented artists to ever rock a mic and hold down some of your favorites from the background. In case you didn't know, background vocals help to round out some of your favorite sounds and hold down the stage presence of your favorite artists.
To launch our inaugural event, we've decided to start off on such a high note, the next shows will be hard to match! Durand Bernarr, Cleveland based artist most notably known for providing background vocals for the incomparable Erykah Badu, will be gracing our stage.
Durand started posting videos on YouTube; saturating the internet with his music and in 2009, he independently released his 1st project… "Alcoholharmony: The MixT@pe". By 2010, he had been discovered by artists such as YahZarah, The Foreign Exchange, Rickey Smiley and Neo-Soul Songstress Erykah Badu.
As the self-proclaimed step-son of Erykah Badu, she reached out to Durand and invited him to be apart of her band "Neda Stella" after hearing his second project release: "8ight: The Stepson of Erykah Badu". During the summer of 2011, he had the pleasure of traveling with Badu and singing background for her European tour as her "2nd Soprano".
Joining Durand on stage will be Bronx born, Philly based singer, DomiJo. Domi, who is no stranger to the microphone, has also backed some of the most sought after and respected indie artists in game such as Bianca Racquel and Mylah.
With a talent like this gracing the Rockwood stage, you do NOT want to miss this.