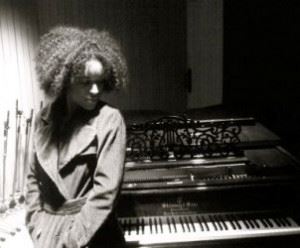 Currently, on tour in the US & Ireland with Estelle, this is the new single from talented Atlantic Records artist, Laura Izibor, "From My Heart to Yours".
From her bio:
..the story so far..
Irish Times Oct 06 "Izibor seems to be channeling Aretha Franklin or Alicia Keys, expect Izibor to make an impact on their ranks soon".
"Entertainment Ireland – Spiegeltent Performance September 06 "It's safe to say the hype surrounding Laura Izibor is founded, Ireland is clearly a place where she is honing her talent before she takes on the rest of the world (AKA America) and proves that she is an actual contender for the crowns of Angie Stone and Alicia Keys."
"The Soul Of Ireland" is a phrase that is becoming strongly connected with one particular Irish singer/songwriter. Her name?… Laura Izibor


Born and raised in Dublin, Ireland, Laura Izibor at just 19 years old has shown such a unique talent that her peers both in Ireland and internationally were prompt to make lavish comments such as "Izibor is set to become a treasured artist for years to come".
After just one listen to this precocious, piano playing 19 year old, it becomes clear to you why people are drawing stylistic comparisons to legendary seminal soul singer Candi Staton, Roberta Flack, and early Aretha Franklin.
Laura Izibor is about to open her recording career, with the highly anticipated release of her debut album "Let The Truth Be Told" via Atlantic Records US. The album, which Laura also co-produced, was recorded in Dublin, New York, Atlanta and Philadelphia and will be released in 2007.
Already seasoned in the live performance arena Laura has undertaken numerous sold out Irish shows have taken place over the last two years in parallel with recording the album. Laura has also performed in many US, UK and European venues and festivals including Roundhouse London, BB King's / Joe's Pub NYC. Invitations were also accepted to open for such luminaries as Angie Stone, James Brown, The Roots and Jamie Cullum during this time. 2006 has also seen Laura headline at The Cork Jazz Festival, performing at The Electric Picnic Festival and guest with Nitin Sawney at the recent BBC Electric Proms in London.
On the home front Laura won the "New Hope" award at the Meteor Irish Music Awards 2006 held in Dublin's Point Depot Arena this spring. Laura was first introduced to the piano at 13 years old and in February of 2003, at the tender age of 15 she entered and subsequently won, Ireland's national and prestigious "2FM Song Contest". Since winning the "2FM Song Contest" Laura signed a publishing deal with "Zomba Publishing" while also giving her signature to her recording contract with Atlantic Records USA.