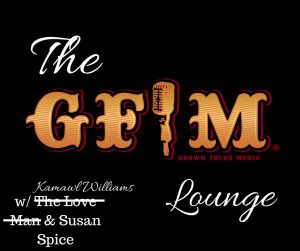 Just when you thought it was safe. When there was peace in the valley and all was good in the hood, another voice memo hits the inbox and well somehow we're posting. Not quite sure how our ol' music editor is going to feel about this rant down Hater Lane.
Yes the "music historian" that no one knows, who claims he knows everything because "he was there!" is back and wack as ever. Out of some strange how in the world did that happen set of circumstances Kamawl claims to have met up with GFM Lounge stalwart Susan Spice and is planning a coup to oust her longtime co-host The Love Man.
#Growns I'm not sure how all of this is going to turn out but I've got to say that a little R&Beef in moderation should be ok. Right?
Checkout all the Controversy LaRue below.
So we're guessing the main takeaway is that Kamawl wants to break up this dynamic duo? Good luck.