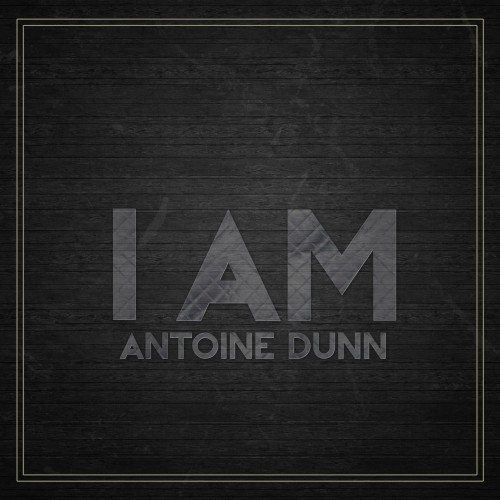 There are moments when life inspires art that an artist may wish never happened. In the case of Antoine Dunn, his new single "I Am", though powerful and beautiful, was born out of the courageous fight his mother had with breast cancer coming to an end. Just a few weeks prior, his mother revealed to him that she only had weeks to live, throwing his life into a tailspin as he negotiated his record deal and a relationship strained by distance. That's a heavy load for anyone to shoulder, let alone a man barely into his twenties. He forged ahead with the same strength his mom battled cancer, but there were times he could feel the world closing in around him; the strain in that relationship resulted in a breakup, things with sour with his record label and he was forced to reevaluate just about everything in his life.
He's returned to where it all started, Cleveland, Ohio and has begun the process of healing. He's taken his career into his own hands, began rebuilding the team around him and he's pushing the song that most clearly represents how he's felt for nearly two years, "I Am". Hauntingly beautiful and vulnerable, yet strong, "I Am" is Antoine's soul bared over live instrumentation. You hear the prayer of a man trying to make sense of the craziness that surrounds him, trying to find a way out of the pain that consumes him and reconnect with what has led him to this point, his relationship with God.
A song of such magnitude could only be approached with ambitions to match; Dunn connected with the Cleveland Orchestra and Akron Symphony to create a big sound that illustrates the depth and range of emotions in his lyrics. The result has been a connection with listeners in tune with the soul of Antoine Dunn, because the song is reminiscent of moments many of us have been in and out of over the course of our lives. "I Am" elicits tears and pain, but also inspires and restores hope, a deeply personal record that leads the way for Antoine Dunn as he embarks on the next part of his musical journey.
One of those next steps was to do something he's never done before and that's put on a concert in his hometown. Sure, he toured the country with Anthony Hamilton last fall, but to headline at home is a dream that will come true on August 23rd. Dubbed "The Experience", Cleveland State's Waetjen Auditorium will host the concert that also acts as his 25th birthday party and a benefit for Minority Women with Breast Cancer Uniting, an organization his mother was heavily involved with.
He's evolving, growing and providing us with snapshots of his life at each stage musically and now, digitally, as he launches www.IamAntoineDunn.com and marks the iTunes release "I Am". The focus hasn't changed for Antoine Dunn; he still wants to win a Grammy, still wants to attract people to his soul. The vision has widened and as he heads back into the studio to record his second album, he's more energized as he's made it through the storm of his life and unpacking the layers, revealing more of himself as a writer and a producer. He's learned more about the business in music business and feels fortunate to be able to capitalize on the momentum of 2012 as he looks forward to 2014 and beyond. In short, that's who Antoine Dunn is…now.