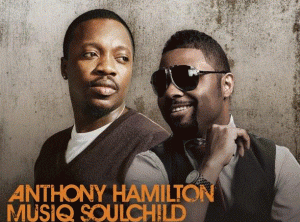 A tribute to two of the baddest brothers in the game right now. I hope you enjoy it.
Musiq Soulchild – Just Friends (Sunny)
Anthony Hamilton – Cornbread, Fish & Collard Greens
Musiq Soulchild feat Lupe Fiasco – Buddy (Remix)
Anthony Hamilton – Woo
Musiq Soulchild – Yes
Anthony Hamilton – Comin From Where I'm From
Musiq Soulchild – Girl Next Door (feat. Ayana of Aaries)
Anthony Hamilton – Better Days
Musiq Soulchild – Until
Anthony Hamilton – Writing On The Wall
Musiq Soulchild – Speechless
Anthony Hamilton – Lucille
Musiq Soulchild – MakeYouHappy
Anthony Hamilton – Life Has A Way
India Arie feat Musiq Soulchild – Chocolate High (Album Version)
Anthony Hamilton – Prayin' For You/Superman
Anthony Hamilton – Struggle No More Remix Ft Jaheim & Musiq Soulchild
Check me out
Like me on Facebook
Visit my home
Peace and Blessings
1

Ivan Orr is a multi-instrumentalist, composer, performer, and writer. A native of Charlottesville, Virginia Ivan was involved with the forming and nascent days of The Music Resource Center as its first Program Director. A graduate of Virginia Commonwealth University's Department of Music, Ivan currently resides in Richmond, VA where he maintains an active performance and production schedule while serving as the Music Editor for Grown Folks Music, a position he has held since 2010.