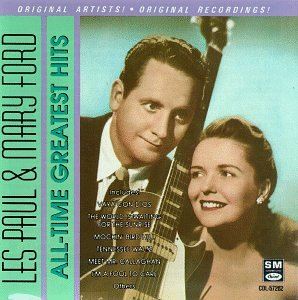 Whether you're familiar with his name or not, you've definitely been impacted by his innovation and contributions to the music industry. The story is courtesy of the San Francisco Chronicle.
Les Paul, guitar innovator, dies at 94
Claudia Luther, Los Angeles Times
Thursday, August 13, 2009
Les Paul, the virtuoso guitarist, entertainer and relentless innovator whose drive to produce the sounds he wanted from his recordings and instruments helped pave the way for rock 'n' roll, died Thursday. He was 94.
Mr. Paul was popularly known for a series of hit songs recorded in the 1950s with his wife, singer Mary Ford, including "How High the Moon" and "Vaya Con Dios."
One of the finest pickers on the American music scene, Mr. Paul was often cited as a major influence on other guitarists, including Chet Atkins, who called him "one of my idols."
But for many other music fans, it was Mr. Paul's innovations that will ensure his legacy. They include an early electric guitar as well as new ways to create multiple tracks and echo effects for recordings, which he used in his recordings with Ford and which later were broadly adopted by other musicians.
"When most people think of the electric guitar, they think of Les Paul," said Dan Del Fiorentino, historian for the National Association of Music Merchants, a trade group for the music-products industry. "He wasn't the inventor of the solid-body electric guitar, but he certainly made it famous."

"Without him, it's hard to imagine how rock 'n' roll would be played today," the late Ahmet Ertegun, founder of Atlantic Records, said when Mr. Paul was inducted into the Rock and Roll Hall of Fame in 1988 for his early influence on rock.
Ironically, the onset of rock 'n' roll – with its heavy emphasis on the electric guitar – ended Mr. Paul and his wife's prominence on the music scene. After they divorced in the mid-1960s, Mr. Paul continued to record, earning a Grammy in 1976 for "Chester and Lester," an instrumental album recorded with Atkins.
And in 1984, when Mr. Paul was nearing 70, he returned to the stage, appearing in clubs in New York City. In 2005, as he was turning 90, Mr. Paul was inducted into the National Inventors Hall of Fame.
Les Paul was born Lester William Polfuss on June 9, 1915, the younger son of George Polfuss, who owned a car repair service in Waukesha, Wis., and Evelyn Polfuss. The couple separated when he was 8.
By 9, he learned to play the harmonica by listening to blues and country on the radio. Not long after, he paid a few dollars for his first guitar from Sears, Roebuck.
By his late teens, Mr. Paul had dropped out of school and was on the radio in St. Louis and then performing in Chicago. During the day, he would play country music as Rhubarb Red, and at night he would jam in the jazz clubs as Les Paul.
In the late 1930s, he formed the Les Paul Trio and made his way to New York City.
During World War II, Mr. Paul entertained the troops as part of the Armed Forces Radio Service.
He finally achieved his long-sought chance to work with Bing Crosby, backing the crooner on his NBC radio shows and, in 1945, recording "It's Been a Long, Long Time" with Crosby – which quickly hit No. 1 on the charts.
Mr. Paul built his own sound studio in the garage of his Hollywood home, where he recorded many tunes, including the 1946 hit song "Rumors Are Flying" with the Andrews Sisters.
By then, Mr. Paul had linked up with singer Colleen Summers, whom he later gave the stage name Mary Ford.
By the early 1950s, the couple had mastered the sound that opened the door to their huge popularity. "How High the Moon," which was made with a dozen overdubs, stayed at the top of the charts for more than two months in 1951.
They divorced in 1964. Ford died in 1977.
Mr. Paul's first new studio album since 1978 – a rock-oriented collection featuring him playing with Steve Miller, Eric Clapton, Peter Frampton, Sting and others – was released in 2005.
Mr. Paul is survived by his three sons, a daughter, five grandchildren and five great-grandchildren.