From the press release…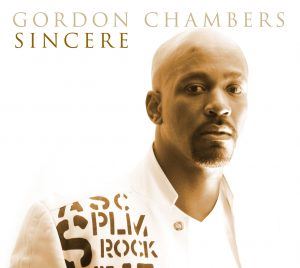 New York, 2011 – After amassing an impressive collection of prestigious awards and penning hit songs for some of R&B's most iconic legends such as Anita Baker, Beyonce, Usher, Brownstone, Whitney Houston, Aretha Franklin, Yolanda Adams, Patti Labelle, and The Isley Brothers, esteemed Grammy award-winning singer-songwriter Gordon Chambers is on the precipice of yet another exciting milestone in his career as a recording artist with the release of his third solo album, Sincere. Featuring production by The BeatBanggahz (Kenny Lattimore, Trey Songz, J. Holiday); A. Jermaine Mobley (Music Soulchild, Lalah Hathaway, Carl Thomas, Eric Roberson), and Chambers himself—alongside flavorful newcomers Darien Dorsey, Blake Melodius and Mike Severson, Sincere effortlessly melds a pop/ R&B sound with a classic soul aesthetic that is certain to surprise and delight contemporary R&B fans and soul enthusiasts alike.
Recorded in New York City, the album flaunts a fresh, new approach to Chambers' trademark songwriting style. "I have songs that have come to be known as the traditional Gordon Chambers sound," he explains. "What I do is a very mature, crafted kind of storytelling with big harmonies. But sometimes
that sounds more interesting when it's juxtaposed with something with a different rhythmic edge." In direct contrast to his critically acclaimed 2005 debut Introducing Gordon Chambers and its dynamic follow up Love Stories (2007) —which featured the adult contemporary hit duet "To Love Again" with four-
time Grammy-nominee Ledisi–lyrically Sincere embodies a more in-depth, up-close and personal tone that captures a rare vulnerable side of Chambers. "Love Stories was a different kind of album in such that it was me being a songwriter reflecting on love and relationships. Sincere is much more honest. I'm a very sincere person and artist. A lot of people feel like a lot of music is focused on the
selling of an image rather than what's in a person's heart."
The album is the result of Chambers employing a decidedly democratic approach to the creative process. "I didn't have a premeditated vision for the album," he admits. "For me, the process of making this album was more like being a curator: taking the pieces and elements around me to pastiche them together and tell a story." In sharing the reigns of creative control, the creation of the album proved to be somewhat of a watershed moment for Chambers. "This time, I let the production team take control—especially Darien Dorsey, who produced four songs for me. Even though I was older and more experienced than the producers on this album, they were not so in awe of me that they couldn't direct the sessions in the right direction." The result is a melodic 12-track opus with a young, vibrant energy and sound all its own. Coinciding with this change in musical direction, Chambers also witnessed tremendous growth as a songwriter during the creation of Sincere. "Obviously you can't ignore the new sounds," he
says. "But if you listen closely to the lyrics, you'll hear that I'm speaking more honestly as a songwriter on this specific album – reflective of my own life – than ever before."
The string-laden "Moody Love" typifies the ups and downs of a romantic relationship. "It was a therapeutic song for me," he explains. "It expresses the pain and loneliness that can be found in a relationship where two people love each other but are not getting along. You don't want to abandon the relationship, but there's a constant clash of personality that you just can't ignore. Yet it's
hard to let go." On "Coming Back," Chambers speaks to "an honest phase of a relationship where people may be in denial. It's the point where you feel you've lost all your pride, but you just keep coming back in hopes that things will change. Even when you're mad and frustrated, you just keep coming back.
His favorite cut, however, is the provocative first single "I Can't Love You (If You Don't Love You)." Why? "Because so many of us are looking for love, when we need to love ourselves better—me included!" The title track, Sincere, written by The Beatbanggahz, however, is a simpler mid-tempo love song. "Men tend to be nonchalant and non-verbal," he explains. "But women need to be reassured by hearing sincere statements. I've been told that part of the effectiveness of my records is that they speak to the women and for the men."
For the more time-honored fans of Chambers' ballads, Sincere offers a few gems that gracefully balance the energetic mid- and up tempos. His unplugged rendition of his classic Grammy-nominated anthem "Missing You" (originally recorded by Brandy, Tamia, Gladys Knight, and Chaka Khan for the 1995 Set
It Off soundtrack) is transformed into a tribute to two of his late mentors: R&B legends Phyllis Hyman and Gerald Levert. Chambers decided to include the song after rehearsing the song at a sound check for a recent performance at the Capital Jazz Festival. "I got very emotional, broke down and had to stop," he admits. "I realized I was missing Phyllis, and how proud she would have been of me. She taught me a lot of things and introduced me to people who changed my life. I also thought of Gerald, who was really like a big brother to me in the industry. I recorded that song as a tribute to both of them, since they always encouraged me not just to write, but sing." Another live performance inspired Chambers to record the late Donny Hathaway's classic "A Song for You". At the behest of the New York City-based Evidence Dance Company, Chambers was commissioned to perform the song in tandem with choreographer Ron
Brown. "When I performed the piece with them, my eyes were always closed, so I didn't realize people were crying it until I opened my eyes to take my bow." In the studio, Chambers kept his eyes closed and captured the same raw emotion he delivered on stage. As a result, the song includes what is arguably one of Chambers' most stunning vocal performances to date. "When I recorded it, there was no one else in the studio: just me alone with my emotions. This cover is my tribute to the music I love most: 70's soul music. There's no period of music more intimate to me."
Sincere also finds Chambers reuniting with one of his former duet partners, vocalist Sara Devine, on the Thomas Whitfield gospel standard "Walk With Me, Lord." Recorded live at a gig and unrehearsed, the spontaneous rendition evokes all the intensity of a Sunday morning praise & worship performance. With all the ingredients at hand, it's hard to imagine that Chambers' recipe could lose. "There are many sounds on this album, but I think there's truly something for everybody on this album," he says. "A lot of the great artists of our time have taken chances. I took chances sonically this time, because change is inevitable. This is an album that is reflective of where I am in this moment in time. Sincere has
something old, something new, something borrowed, and something blue. This is the chapter I'm writing at this point in my career. And the way it's sequenced, it takes the listener from the current to the classic. It's a nice journey. You cook with what's in the kitchen at the time."
Ivan Orr is a multi-instrumentalist, composer, performer, and writer. A native of Charlottesville, Virginia Ivan was involved with the forming and nascent days of The Music Resource Center as its first Program Director. A graduate of Virginia Commonwealth University's Department of Music, Ivan currently resides in Richmond, VA where he maintains an active performance and production schedule while serving as the Music Editor for Grown Folks Music, a position he has held since 2010.