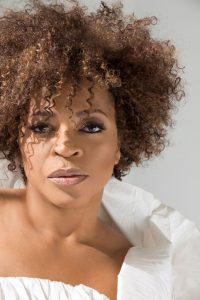 You may not know Tawatha Agee by name, but you most certainly know her voice– beginning with the R&B Mtume classics, "Juicy Fruit" and "You, Me & He".  Her success as a backing and touring vocalist makes a solid case for the necessity of liner notes and why they MUST come back in some form. Ms. Agee's resume' is revealed over more than three decades of liner notes of several artists of several genres. There are too many to name here, but just trust weighty credits like Aretha Franklin, Luther Vandross, David Bowie and Michael Jackson. We talked about her accomplished career, how she joined the group Mtume, and her plans for an upcoming solo project. Read the interview below and enjoy.
GFM: You're probably best known to the Grown Folks out there as the voice of the classic song, "Juicy Fruit". Tell us how you became part of Mtume.
TA: I met [James] Mtume when I graduated from Howard University. He and his partner Reggie Lucas were looking for a group to produce. I was in the group that they were listening to. The group was called Hot Tea. It consisted of Angela Winbush, Richard Smallwood, Shelton Becton and Alette Becks. It was five us. We were all students… either that had graduated… or that were still students at Howard. They came down to listen to us. We did a demo for Mtume and Reggie. That didn't work out, but it just so happened that Mtume and I lived in the same town and we kept in touch. When he decided that he was going to have a group, he asked me if I'd like to sing in his group. I said yes. There it is. That's it in a nutshell. Oh my God, that was so long ago. I don't think it was the '80s yet [laughs]. That was like,'70… well, I'll just leave it at late '70s [laughs].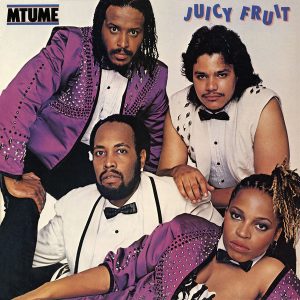 GFM: Perhaps you guys should revive Hot Tea since that's such a buzzword now… spilling the tea, sharing the tea, etc. You guys were before your time with Hot Tea.
TA: I was thinking about doing a documentary or something on the group. Even though we were students at Howard and we had a group when we graduated everyone went their separate ways and became extremely successful. I think that's the whole purpose of being at the university and exploring what your options could be and keeping things within your major. We were all music majors. Everyone went out and became really successful in their particular areas. So, I'm thinking about doing that 'cause they were really good… really good musicians.
The "Go To" Vocalist
GFM: You are known as the "go to" vocalist in the industry and you have the receipts to prove it. Your resume' as a touring and a backing vocalist is so diverse and so interesting to me. You've worked with everyone from the Queen of Soul [Aretha Franklin] to the King of Pop [Michael Jackson] and too many artists to name in between. The most fascinating one to me though, was when I saw [that you worked with] Scritti Politti. That blew my mind.
TA: Oh, you know Scritti Politti?! Oh my goodness!
GFM: Yes! I was a teenager in the '80s. I had that album [Cupid & Psyche '85] and I didn't realize you sang on it until today. I looked it up and [discovered that] you sang on some of my favorites on that album. Yes, I know Scritti Politti. I was a fan as teenager.
TA: Oh my goodness!
GFM: That blew my mind. How did you come to be called upon by such a diverse group of artists who crossed genres like that?
TA: Well you know Kimberly, it was word of mouth. There was no social media back then. I didn't have a manager. I didn't even have a business card. It was all by word of mouth. Let's say I did a good job for Luther [Vandross] and say Scritti Politti liked Luther [Vandross]. They wanted to get the same singers that he used, so they would contact us. It was all by word of mouth. Everything from Lenny Kravitz to Luther [Vandross] to Michael Jackson, Steely Dan, Roxy Music, Dan Hartman, David Bowie, and the Dave Matthews Band. It was all by word of mouth. With the Dave Matthews Band, they were in town in New York and they were doing a record. They needed some background singers. They called me to do the background vocals and I called two of the other ladies from the Luther [Vandross] group. We went there and we did one song. They liked it so much they wanted to take us out on tour to sing one song. We said, 'We can sing more than one song. We can do that.' That turned into two years worth of work. So, it's like that. It's all by word of mouth. With Aretha [Franklin]… I mean… it's been so many people. You would have to ask me specifically about somebody because it's been so many people I can't even remember.
Liner Notes
GFM: It's a long list. People have no idea how accomplished your career is. Do you think that when you said it's by word of mouth and other artists started inquiring because they heard you singing vocals on other [artists' projects] that it's also attributable to liner notes? People know people in the industry, but I'm thinking a British group… a group in the UK called Scritti Politti… how might they find out who the background vocalists were except by reading the liner notes.
TA: You're absolutely correct. When I was a little girl I would read liner notes and I would say, 'One day my name is gonna be up there. My name is gonna be in those liner notes.' I'm telling you, 20 years later my name is on the liner notes. I know about the power of reading the liner notes. They don't have them anymore, but I devoured liner notes because I wanted to know who was singing and who was playing on each record that I got. That was important to me. I would connect the names and say, 'This is the person who always sings on these records, or this is the guy who always plays on these records.' That was so important to me. I'm sure that other people felt the same way. Just reading liner notes to see who was who on these projects, because you wanted to get the people who were working to work on your projects. That's how I worked for many, many years.
GFM: You say you didn't have a business card, but you did. It was the liner notes. The liner notes… those are your business cards.
TA: I never thought of it that way but you're right, 'cause this is a long list of people on this discography. Stephanie Mills, Sting, Roberta Flack, Phylis Hyman, The J. Geils Band, Moby, Scritti Politti, the Thomson Twins, Al Jarreau, Joe Cocker, Celine Dion, Blues Traveler, Annie Lennox, Eric Clapton, David Bowie. I mean… it's A LOT of people.
"Love On Hold"
GFM: Does working with so many different artists in different genres… especially since you're still doing it for some of these younger bands… does that keep your finger on the pulse of what's going on in music?
TA: I think so. I like to know who the latest people are. I worked with this group called Chromeo. It's a group out of Canada, but they do '80s music so it was like, 'Oh, that's right in my wheelhouse.' Working with them was fun. I sang on a couple of their albums. Now, it's been club music. This DJ called and asked me if I'd sing on this song. I said, 'Sure.' His name was Aeroplane and the song was "Love On Hold" [2017] and it became very popular. I didn't even know that existed. Just because I liked the music, I sang on it. They talked about it being one of the dance songs of the year. It's like, 'Wow!' You never know where something is gonna lead. I like to do different things as you can see in different genres of music. It keeps me on my toes. It keeps me fresh vocally and working with new artists– I like doing that. I like doing that a lot.
GFM: You put out a solo album in the '80s that you worked on with James Mtume. We talked to him recently and he told us that you're working again on a new solo project. Can you tell us about that?
TA: I'm working on new project. I'm also on a tour as Tawatha of Mtume, so I'm singing Mtume songs. We're working on new music which should be out at the end of the year. This is a resurgence of my solo things. I've worked with everybody singing background. Now, I decided it's time to start doing my solo things again. It's an interesting life, because it's like, 'You've sung with just about everybody…. well… quite a few people and it's like, What am I gonna do now? Oh, well I can still sing. Let me continue to sing solo.' The project is going to be great. We're going to have new songs from young artists and we're going to give them a chance to showcase their music with me singing. It's not going to be Mtume stuff. This is different now. This is the next phase. It's Tawatha time now… you know what I mean?
Watch Tawatha Agee "bridge the gap" as she performs "Juicy Fruit" with The Roots during the group's Grammy Jam 2018.
GFM: What's your definition of Grown Folks Music?
TA: I first heard that term from Kenny Gamble and Leon Huff. I used to read those liner notes and see who are those women who are singing on the Philly International stuff. They used the same people on everything so their sound became very distinct. It was like, 'Whoa, you're listening to grown folks music now. Really? I love it!' Grown folks music is for anybody who likes good music. Anybody. You don't have to be grown to like grown folks music, because I know a lot of younger people who like classic R&B. They love that. Grown folks music is for anybody who's mature enough to understand what's going on.
Follow Tawatha Agee on Instagram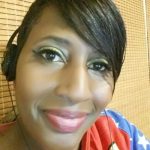 I ask questions of your some of your favorite artists.