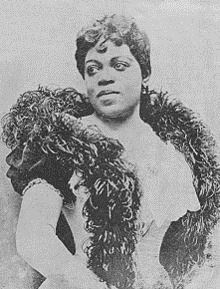 Sissieretta Jones was born Matilda Joyner on January 5, 1869 in Portsmouth, VA. At the age of 7 her family moved to Providence, RI seeking to start a new life in the north. Sissieretta's father was a minister and his church is where she begins singing at a very young age. At the age of 14 Sissieretta begins formal training and she is eventually accepted at The New England Conservatory of Music (no small feat).
In the late 1880's Sissieretta Jones makes her concert debut, over the course of the next few decades she will perform internationally for hundreds of thousands of concerts goers and for heads of state and royalty. She was often compared during her career to the famous Italian Soprano, Adelina Patti (a comparison which Jones did not care for). But being known as the "Black Patti" did open some doors.

At the height of her career Jones was making in excess of $20,000 per year which would have provided her a very comfortable standard of living at the beginning of the 20th century. Tragically, her tale is an all too familiar one. As her star began to fade, eventually Sissieretta Jones would sell off most of her possessions to survive and she died penniless in 1933.
Sissieretta Jones during her career could never just sing the classical repertoire which she loved. Jones as well as numerous other black artists during her day would have to include comedy skits, coon songs and dances to entice the audience to attend and then there would be space allotted in the show for the performers to display their true ability. I would have to say that there are still vestiges of this practice in place today.
Here is a poster announcing a performance of Sissieretta's touring troupe.

We would love to read some of your thoughts on this amazing story.

Ivan Orr is a multi-instrumentalist, composer, performer, and writer. A native of Charlottesville, Virginia Ivan was involved with the forming and nascent days of The Music Resource Center as its first Program Director. A graduate of Virginia Commonwealth University's Department of Music, Ivan currently resides in Richmond, VA where he maintains an active performance and production schedule while serving as the Music Editor for Grown Folks Music, a position he has held since 2010.