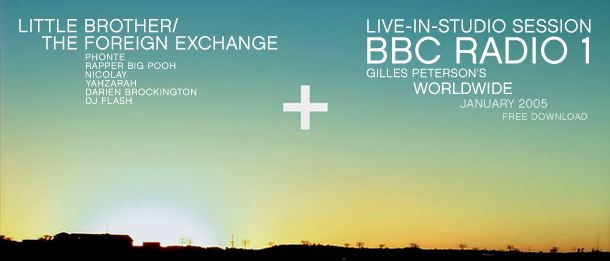 So, as you know by now, we've got nothing but love and respect for The Foreign Exchange and their whole extended family. It's always a welcome treat when Nicolay drops a nugget from his extensive vault and shares it with the fans. Well, this month is an extra special treat that coincides with an iconic milestone for FE fans. Check it out:
In celebration of the 5th anniversary of the release of The Foreign Exchange's debut album 'Connected', we have a very special 'Off The Shelf' installment for you today!

At the end of January 2005, on the heels of a sold-out performance at London's Jazz Cafe, Little Brother/The Foreign Exchange (consisting of Phonte, Rapper Big Pooh, Nicolay, Yahzarah, Darien Brockington and DJ Flash) recorded a live-in-studio session for Gilles Peterson's Worldwide show on BBC Radio 1 (United Kingdom). Originally, the BBC Radio 1 only aired the two Foreign Exchange tracks, 'Come Around' and 'Sincere', but we are now presenting this session in its entirety. Enjoy!

Thanks for listening,

Nicolay
Download
Tracklisting:
01 Speed (Little Brother)
02 The Way You Do It (Little Brother)
03 Come Around (The Foreign Exchange)
04 Sincere (The Foreign Exchange)
Drop on over to their official website to get more jewels and the latest on their upcoming release, City Lights Vol. 2: Shibuya, which drops on 9/15 but is available for pre-order here.