I would file this post under: "Come by the house and see what album jackets are on the coffee table… oddly enough they have something in common, like you know, in the old days where multiple titles from the same label would show up in the queue, when the collective seemingly mattered as much as the individual release." To that last point in my long run on opening statement: Sure, there are all sorts of collectives, groups, crews, but currently there are few that are as consistent across the board in producing quality musical output (both live and recorded) as The Foreign Exchange and their associated musical kin. BTW, this is far more a post of recommendation than review.
Dear Friends: An Evening With The Foreign Exchange
The info:
Serving as a companion piece to their latest release "Authenticity" and as a glimpse into their acclaimed live show, "Dear Friends" is a double-disc CD/DVD digipak that features the full acoustic concert performed by the band's current touring lineup of Zo!, Sy Smith, and singer/songwriter Jeanne Jolly. In addition to the live concert recordings, the release also features two new studio tracks; "Steal Away" featuring Jeanne Jolly and "All The Kisses" featuring Amber & Paris Strother of rising indie soul trio KING.
Often it can be very difficult for music that is created using electronic methods to translate to an acoustic setting. This is certainly not the case here, the music is as fresh and colorful using acoustic guitars, piano bass and drums as it is when it is in the realm of zeroes and ones. The vocals and frankly the entire production are mixed in such a way that there is very little distance between the ensemble and audience, intimate. Personalities are allowed to shine through on the entire set and this is one musical offering I believe is tailor-made for a gathering of friends and a glass or glasses of your favorite red, whether that red is merlot or kool-aid.
To purchase Dear Friends go here.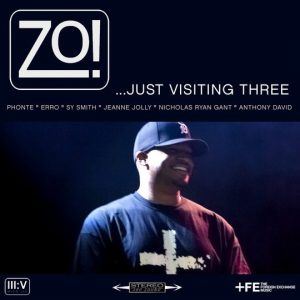 01. Black Cow feat. Phonte and Sy Smith
02. Let It Go feat. Nicholas Ryan Gant
03. Driving feat. Sy Smith
04. Marzipan feat. Eric Roberson and Phonte
05. Everything She Wants feat. Phonte
06. Same Ole Love feat. Jeanne Jolly
07. Playing Your Game, Baby feat. Anthony David
ZO! returns with another installment of his Just Visiting series of classic covers. What can I say about a set that features not one, not two, but three of my all time favorite tunes? I will say that as a listener this installment and entire series is just good ol' fashioned musical fun. For me it's fun when you have that perfect mix of nostalgia and forging new territory, that's adventurous and isn't that what music should be about: Paying homage to what has come before yet putting your personal signature on the music?
To download Just Visiting Three go here.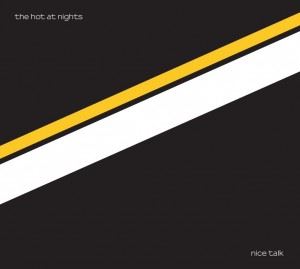 We also wanted to put you onto Foreign Exchange guitarist and band mate Chris Boerner. Boerner has been working with The Foreign Exchange since the Leave It All Behind album and a touring member of TFE live since November 2009, and he can also be found on Zo!'s SunStorm & Just Visiting 3 releases, heavily on TFE's Authenticity album and most recently, he mixed and mastered the current live CD/DVD "Dear Friends: An Evening With The Foreign Exchange". Chris his group, The Hot @ Nights, who has just released their first album Nice Talk; in this own group, Chris Boerner plays 8-string guitar (nice!) alongside Matt Douglas (who is also featured on Leave It All Behind) on woodwinds and Nick Baglio on drums. They play melodic instrumental jazz with a heavy groove.
To listen to a preview of Nice Talk go here.
So??? What are you waiting for? If you haven't already added this trifecta to the collection there's no better day than today(or any day for that matter) to support great music!
Ivan Orr is a multi-instrumentalist, composer, performer, and writer. A native of Charlottesville, Virginia Ivan was involved with the forming and nascent days of The Music Resource Center as its first Program Director. A graduate of Virginia Commonwealth University's Department of Music, Ivan currently resides in Richmond, VA where he maintains an active performance and production schedule while serving as the Music Editor for Grown Folks Music, a position he has held since 2010.