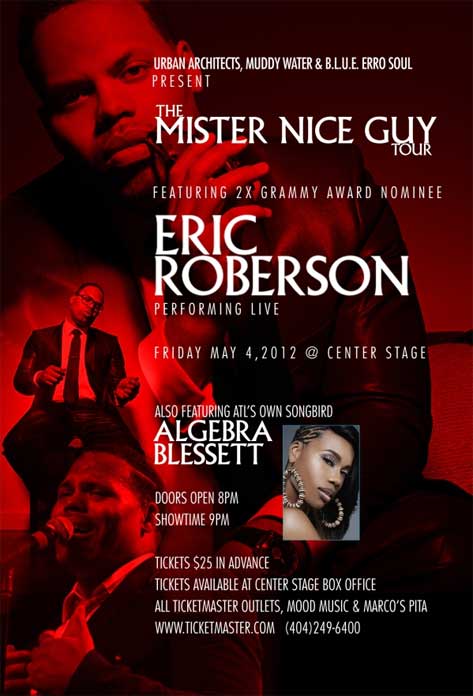 Atlanta, I have to ask you a question. Are you satisfied with the less than impressive routine of the "bad boy"? Has it come to a point where their "unpredictable" wildness has become – well, predictable?  Have no fear, my bored music lover.  Let us suggest a concert that's sure to shake your conventional horizons.  Eric Roberson, "Mister Nice Guy" himself will be in Atlanta Friday, May 4th at Center Stage with special guest Algebra Blessett. Now, we know you're familiar with Mr. Roberson from his laundry list of hits but just in case you're a newbie, here's a taste of his latest video, At the Same Time from his latest album.
Make sure you get your tickets now!!  Doors open at 8pm and show time starts at 9pm! It's an event you definitely don't want to miss.

Hope is a music enthusiast and continual student of photography. Also known to rock out a quiet church or elevator with her current ringtone, Tom & Jerry's Uncle Paco, "Crambone".