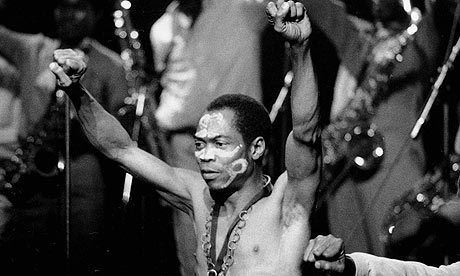 DJ Polished is back with another great mix for the people, this time marking the 75th anniversary of the birth of the one and only Fela! Make sure to press play and share on this one. Check out the tracklisting after the jump.
Description:
Fela Anikulapo Kuti
(15 October 1938 – 2 August 1997)
To celebrate what would have been Fela's 75th anniversary, a mix of samples, covers, remixes, and originals. Fela's musical legacy will live on FOREVER!
Tracklisting:
Intro: Who Is Fela? – Teck-Zilla [Bandcamp]
Water No Get Enemy – D'Angelo, Femi Kuti + Macy Gray [MCA Records]
The Black President – Teck-Zilla [Bandcamp]
Whatcha Gon' Do – Missy Elliott [Elektra Records]
Fela Mentality – MixMaster Mike + Mario Caldato, Jr. [MCA Records]
Grown Man Sport (feat. INI and Deda) – Pete Rock [Rapster Records]
Breakadawn Instrumental – Amerigo Gazaway [Bandcamp]
fela joint pt 2 – Nonku Phiri [Soundcloud]
Go Slow – The King [Knitting Factory]
Interlude – Amerigo Gazaway [Bandcamp]
Much More Instrumental – Amerigo Gazaway [Bandcamp]
Pops Rap III…All My Children – Common [MCA]
Digable Planets vs. Fela Kuti (Dj Kumi remix) – Digable Planets vs. Fela Kuti [Soundcloud]
Fela Sound feat. Common – Bilal [Interscope Records]
Ooh Instrumental – Amerigo Gazaway [Bandcamp]
Fela – Lukid [Werk Discs]
I Will Not Appologize Feat. Dice Raw & Porn – The Roots [Def Jam]
Tribute To Fela Kuti – Beat Faculty [Soundcloud]
Rock Co.Kane Flow Instrumental – Amerigo Gazaway [Bandcamp]
Spend the Day feat. Drey Skonie – Obie Trice [Black Market Entertainment]
Fela – The Ras General [Blue Pie]
Smithsonian Institute of Rhyme – Blackalicious [Quannum Projects]
Trouble Sleep Yanga Wake Am – Taj Mahal & Baaba Maal [MCA Records]
Stay Fly (Iso Crates Fela Fix) – Fela Kuti & Three Six Mafia [Soundcloud]
Blackman's Cry – Teck-Zilla [Bandcamp]
Time Travelin' (A Tribute To Fela) – Common [MCA]
Fela – DJ Harrison [32 Bar Records]
Kalakuta Show – MixMaster Mike + Lateef and The Gift of Gab (of Blackalicious) [MCA Records]
Hit Em Up – Afrikan Boy [Y.A.M RECORDS]
Africa Centre Of The World (2012 Afrologic Club Mix) – Fela Kuti & Africa 70 + Roy Ayers – [Soundcloud]
Afrodisco Beat 2013 – Tony Allen, M1 + Baloji -[Knitting Factory]
99,9 AllStars Tribute To Fela – Minimoogli [Tubetracks]
Fela Kuti (Montrell McSwain Edit) – Roforofo Fight [Transmission Audio Recordings]
Fela (Original Album Version) – Audiofly [Get Physical Music]
MAW Expensive (A Tribute To Fela) Feat. Wunmi – Masters At Work [Ether]
Ain't Gonna Hurt Nobody – Brick [Sony]
No Possible (Joystick Jays Vulgar Distractions Edit) – Fela Kuti [Soundcloud]
M.O.P Movement Of Da People! (Afrologic Re-Con-Funksion D.J Beatz) – Fela Kuti + Bob Marley [Soundcloud]
Trouble Yanga for Afrofture – Blixaboy vs Fela Kuti [Soundcloud]
ITT (Badeshi Rehash) – Fela Kuti [Soundcloud]
Zombie Part 2 – Nile Rogers And Roy Hargrove And Money Mark [MCA Records]
Eko Lie REDUX – Blixaboy vs Fela Kuti [Soundcloud]
Zombie Part 1 – Bugz In The Attic [MCA Records]
Shakara Lady Part 2 – Cheikh Lô, Les Nubians + Manu Dibango [MCA Records]
Ariya feat. P Money (produced by Charmer) – Fela Kuti [Soundcloud]
Water No Enemy – Yasiin Bey & Hypnotic Brass Ensemble []
Expensive Shit – Fela Kuti [MCA Records]