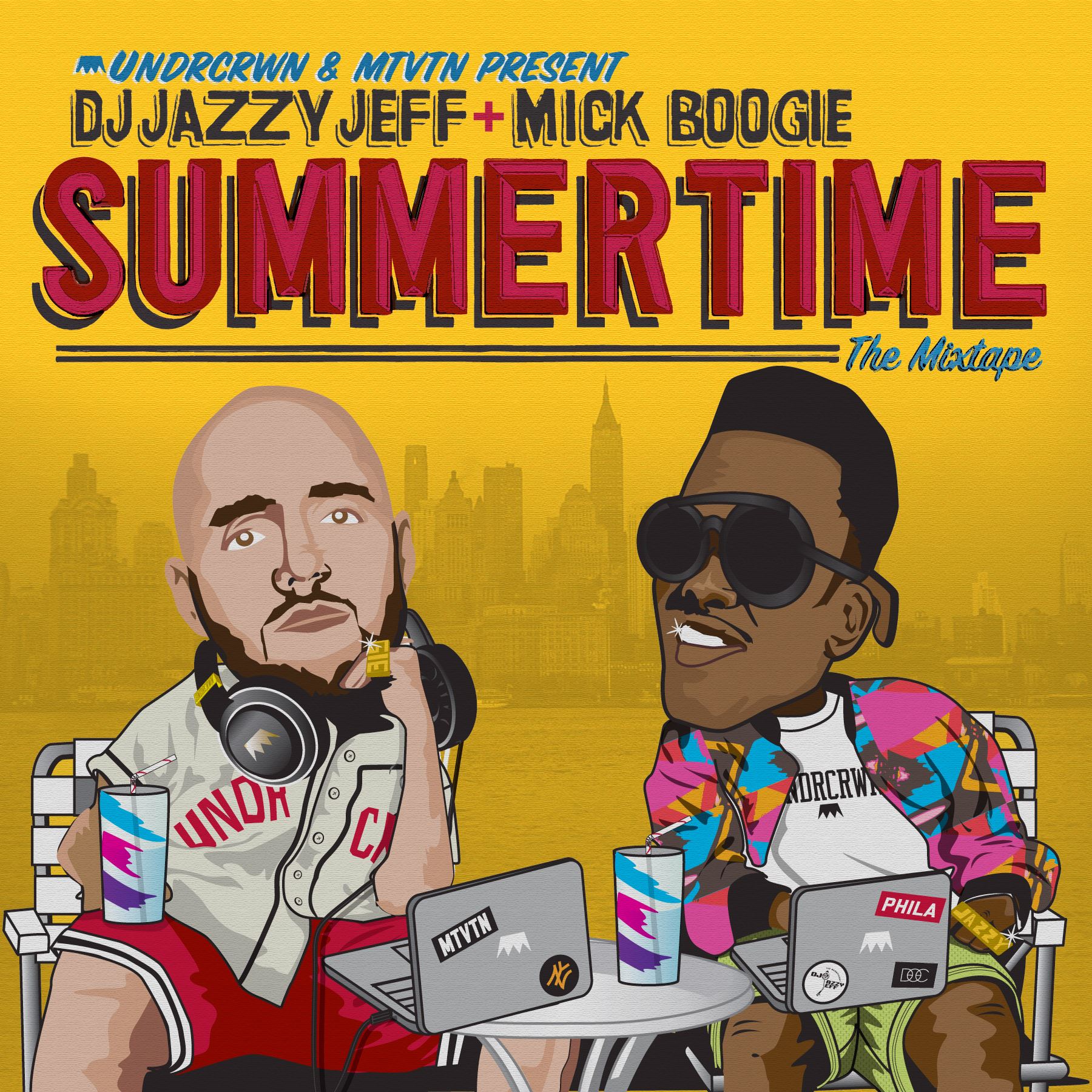 Just in time for your July 4th festivities and the soundtrack for the rest of your summer, Undercrwn & MTVTN Present the ultimate summertime mixtape. While you're enjoying the great music, family and friends… take a moment to give thanks and send a prayer up for the troops all around the world. Enjoy!
49 songs… expertly mixed, cut and transitioned by two of America's most popular DJ's. The songs cover any and everything 'summer' related. From songs about summer to songs that just feel like the sunshine season, this multi-genre mix will be sure to make your already great summer even better!

Download link
Hit the jump for the tracklist.

* 1. Summertime Intro
* 2. Kool & The Gang: Summer Madness (Live Version)
* 3. Kool & The Gang: Summer Madness
* 4. Quincy Jones: Summer In The City
* 5. Ahmad: Back In The Day
* 6. Ice Cube: It Was A Good Day
* 7. Roy Ayers f/ Mary J Blige: Everybody Loves The Sunshine
* 8. Pharcyde: Passin' Me By (Ffej Remix)
* 9. Jay-Z f/ Babyface: Sunshine
* 10. Ramsey Lewis: Sun Goddess
* 11. A Tribe Called Quest: Find A Way (Ffej String Edit)
* 12: Bush Babies f/ Mos Def: The Love Song
* 13. Jodeci: Get On Up
* 14. The Commodores: High On Sunshine
* 15. J Dilla f/ Dwele : Think Twice
* 16. Erick Sermon f/ Marvin Gaye: Music (Mick's Marvapella Edit)
* 17. Bernard Wright: Who Do You Love
* 18. LL Cool J: Loungin'
* 19. A Tribe Called Quest: Hot Sex
* 20. Main Source: Live At The BBQ
* 21. Nuyorican Soul: Nautilus
* 22. Pharcyde & Sublime: Summertime
* 23. Fresh Prince and Jazzy Jeff: Summertime Remix
* 24. Michael Jackson: I Can't Help It
* 25. De La Soul: Breakdawn
* 26. Musiq: Just Friends
* 27. Carl Thomas: Summer Rain
* 28. Faze-O: Riding High
* 29. Dionne Warwick: Walk On By
* 30. Skee-Lo: I Wish
* 31. Black Moon: Who Got The Props
* 32. Frankie Beverly and Maze: Before I Let Go
* 33. Nu Shooz: I Can't Wait
* 34. Montell Jordan: This Is How We Do It
* 35: The Roots f/ George Benson: Breezin'
* 36: Fresh Prince and Jazzy Jeff: Time To Chill
* 37. Biggie: Can't You See
* 38. James Brown: The Payback
* 39. En Vogue: My Lovin'
* 40. Bobby McFerrin: Sunshine Of My Life
* 41. Fifth Dimension: Let The Sun Shine In
* 42. Mos Def: Sunshine
* 43. Nine: Whatcha Want
* 44. Otis Redding: Sittin' On The Dock
* 45. 2Pac: I Get Around (Mick's String Edit)
* 46. Zapp: Computer Love (Terry's Mirage On The Water Mix)
* 47. Seals And Croft: Summer Breeze
* 48. Jay-Z: Dear Summer
* 49. Weldon Irvine: Morning Sunrise