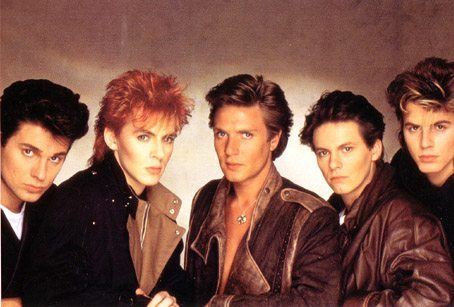 Spurred on by a number of British New Wave acts like The Police, Elvis Costello, The Pretenders, Squeeze, and Gary Numan in the late 1970's, the Second British Musical Invasion was solidified a few years later when our Artist of the Month Duran Duran ruled the video and airwaves. In 1983, Duran Duran along with groups like Eurythmics, Culture Club, A Flock of Seagulls and on and on were able to capture a 30% share of record sales. No small feat and the influence that this phenomenon had on music was not only felt during the height on the "invasion" during the mid-80's but throughout the decade and beyond.
Many have written about the influence that this musical "invasion" had on Pop music but I've often thought about the influence that it had on other genres, R&B and Hip Hop in general. It was and continues to be an interesting phenomenon in the sense that you have a number of these acts from the UK citing Soul, R&B and Funk as primary musical influences and in turn their musical output influencing the contemporary equivalent of those genres during this era and beyond.
Let's examine a more complete(not necessarily exhaustive) list of groups with significant presence during this time period.
ABC
Adam and the Ants
After The Fire
The Alarm
Bananarama
Belouis Some
Bow Wow Wow
Big Country
Culture Club
The Cure
Dead or Alive
Def Leppard
Depeche Mode
Dexys Midnight Runners
Thomas Dolby
Duran Duran

English Beat
Erasure
Eurythmics
Fastway
A Flock of Seagulls
Frankie Goes to Hollywood
The Fixx
Eddy Grant
Haircut 100
Heaven 17
The Human League
Billy Idol
Iron Maiden
Howard Jones
Kajagoogoo
Madness
Modern English
Musical Youth
Naked Eyes
New Order
Orchestral Manoeuvres in the Dark
Pet Shop Boys
The Psychedelic Furs
Re-Flex
Simple Minds
Soft Cell
Spandau Ballet
Tears for Fears
Thompson Twins
Ultravox
Wang Chung
Wham!
Yaz
Paul Young
A number of these acts along with our Artist of the month, had an immediate impact on Black Music as it was known at the time I guess it's called Urban now, but I digress…
In the Spring of '84 while on a small vacation to Grandma's house I spied something peculiar on the television. A full year and a half before this channel reached my small town there was a station on called BET. What was even more interesting was that there was a video show on and this song happened to be the first video I ever saw on BET. I most note that my love affair with BET and videos began in earnest in the Fall of '85 and lasted for almost the next 15 years. Digressing again…
Quite notably missing from the list above are a number of acts who immediately impacted Black Music on this side of the Atlantic. It's possible that they were overlooked because of the beginning of their ascent was during the middle to the ladder part of the decade. Groups like Loose Ends, Five Star and a little group led by Ms. Adu
Numerous Hip Hop classics were recorded in London during the 1980's most notably acts who were on the Jive roster of artists.
Thomas Dolby and the Funk
The influence of Duran Duran and many of the groups listed above is undeniable, musical influences often will show up decades later, often in a new genre and whereas adherents to these genres will hear something new we're often reminded that there "Really is nothing new under the sun."
Here's one of the best examples of that, a MTV staple a definitive video from the Invasion Era. This song was originally recorded by Gloria Jones in 1964 and then received new life in the 80's from Soft Cell and then somehow was revived once again in the new millennium. So somehow the music travels from here to there back to here then back again and that's the way it's always been with music, because she is our cultural representative.
Ivan Orr is a multi-instrumentalist, composer, performer, and writer. A native of Charlottesville, Virginia Ivan was involved with the forming and nascent days of The Music Resource Center as its first Program Director. A graduate of Virginia Commonwealth University's Department of Music, Ivan currently resides in Richmond, VA where he maintains an active performance and production schedule while serving as the Music Editor for Grown Folks Music, a position he has held since 2010.