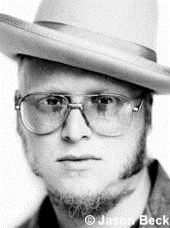 If you ever have the opportunity to see this cat perform live….check him out.  Pure Soul.
In 1997, when this native Brooklynite moved to Miami and received his name from Mandrill's guitarist Tommy Trujillo, the die was cast. He realized at that point, by leaving his familiar NYC to conquer new lands, he was stepping into his destiny.
His resume prior to that point was impressive. As a member of The CityKids Foundation's Repertory Company, and later an alumnus, he was able to hone his craft with performances in high schools, prisons, as well as on Broadway and TV with countless celebrities. He performed his first original composition with jazz legends Herbie Hancock and Branford Marsalis and then again with the late, great Grover Washington Jr. at age 17.
In 1994 he started his first band "eli & the bluesound project" and continued sharpening his performance chops while stretching the boundaries of music on the New York scene. After two years, the band had run its course and Big Brooklyn Red went on to sign a production/management deal. While that particular effort never bore fruit, it gave him the opportunity to work with Ivan Hampden and Paulette McWilliams. Ivan was Luther Vandross' drummer and Paulette was the linchpin of Luther's inimitable background vocals. It was a master class. "I was a bad motherfucker before that, but Paulette made me razor sharp."
Only six months after moving to Miami, Big Brooklyn Red became known as the premier soul singer in South Florida. His trademark freestyles made each performance one of a kind. Born from the difficulty of getting musicians to rehearse, his live performances in Miami were often complete improvisations. "That's where the magic is for me," Brooklyn says. "To just open your mouth and listen to what God might have me say. The better I sound, the better the song is, the more humble it makes me."
"Somewhere along the line somebody with a mind for marketing told me to let the audience in on what was happening," Brooklyn adds. "I got tired of people asking where they could buy the song I had just made up." At a 1999 gig at the Marlin Hotel on South Beach, he asked the audience for a phrase that they wanted to hear in a song. He flipped that phrase, and possibly a thousand more since then.
Every Friday night home game during the 2001/02 NBA season found "Big Brooklyn Red and the Miami Funk All Stars" as the house band for the Miami Heat. They performed the National Anthem, a few time-outs, the halftime show, and the post game party. Big Brooklyn Red was at the top…it was time to leave. Destiny was still calling.
Live @ Madame X, "Space & Time"


At the end of 2002, with the help of his grandmother, Big Brooklyn Red bought a motor-home; packed up all his worldly possessions, his then girlfriend and his dog, Lulu, and set out on a grassroots tour of the U.S. He used this opportunity to promote the release of his first album Foreword while singing the National Anthem for NFL and NBA games, as well as doing open mics and featured performances in cities along the way. Each stop on the road brought him to venues where he belonged, such as the stage of the world famous Black Lily in Philadelphia. He met artists who were doing Soul music with the same passion and work ethic he himself possessed. Heston in Atlanta, Fertile Ground in Baltimore, W. Ellington Felton, Raheem De Vaughn and K'Alyn in DC.
Upon reaching his destination in Los Angeles, Big Brooklyn Red quickly made his mark. At a weekly showcase called Neo-Soul Unplugged, he rose to the top of a group of up-and-comers. His performances there were so legendary that he was often positioned as the opening act for such headliners as Brian McKnight, Blu Cantrell, Chico DeBarge, Robin Thicke, and Deborah Cox. "At Neo-Soul Unplugged my freestyles would make the headliners change their show…they wanted to be that free."
Big Brooklyn Red's time in L.A. was short-lived. Nearly a year after arriving in the City of Angels, he decided to return to Miami Beach. He felt the need to reconnect with the live music scene he'd had a hand in creating.
In 2003, three tracks from Foreword were licensed to the UK compilation Organic Soul Vol.3. "Time" was also licensed to be used on the compilations NY Soul and Soul Lounge Vol.1. At the same time, his second Soulful House track with producer Patrick Green was remixed by Dennis Ferrer and released. In two days, all 2,500 copies of the vinyl pressing were sold out and 1,300 reorders were requested. The track also got radio play on KCRW before the record company folded – making "I Got Sunshine" a bonafide house music hit, as well as an enigma.
Later that year, Big Brooklyn Red did three dates in England to support Organic Soul Vol.3, and then flew directly to NYC in order to film "Showtime At The Apollo." His performances made the 2004 season of their Best of Amateur Night show.
In 2006, Deep Haven Records released "He Moves," a Gospel House track Big Brooklyn Red recorded a year earlier as a one-take freestyle. The record label's debut release was launched with a performance in Minneapolis at the 7th St. Entrance, part of the 1st Avenue club. "I'm in the club where they shot Purple Rain, in this room that's packed to the rafters and everybody is singing my lyrics while I'm performing the song! I was worried that I was going to mess it up…I freestyled that song so long ago. It took me weeks to learn the lyrics for that show! It was great," he laughs.
Big Brooklyn Red is a performance driven artist. Since 2000, he has averaged over 50 shows per year. He continues to connect and build with his fellow soul artists by doing gigs in NYC, Atlanta, Chicago, Philly, New Orleans and D.C. Since the release of Foreword and subsequent recordings, he has balanced the presentation of his recorded material with showcasing his improvisational talent, and the freestyles are easily the most anticipated part of his live show. He won't repeat a phrase he sang before and he never takes the easy way out.
He explains, "People have an expectation when they spit out a bunch of words for me to sing. I try to make it something they didn't expect. When it's pretty good I'm thinking really fast. When it's really on I'm not even thinking and sometimes I fall flat on my face. That's the risk of being an artist and being committed to your craft."
Big Brooklyn Red rarely falls on his face.
In 2007 TruSoul Entertainment released Big Brooklyn Red's mix tape, Unrehearsed Vol.1. It features freestyle one-take recordings over recognizable tracks. It is the application of Brooklyn's organic process to Hip-Hop.
His next album, Answer The Call, will be available in stores and on-line in the Summer 2008. Meanwhile he continues to record and perform around the world. He may currently be seen on MTV Italia in DJ Jad's video for "By My Side."
Source
Video