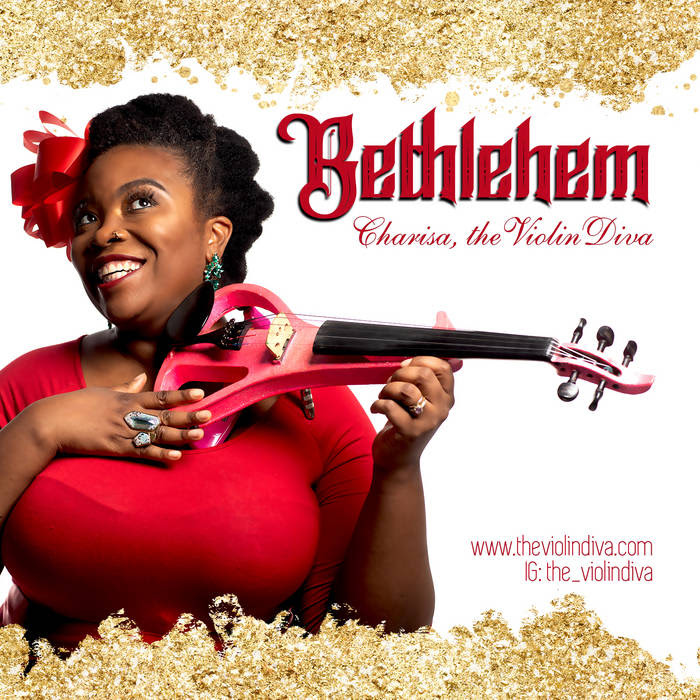 #Growns 'Tis the season! Charisa The Violin Diva brings us an empowered and inspiring jazzy arrangement of "O Little Town Of Bethlehem". This is not your standard Sunday morning hymn of the day fare, no this is a musical journey to the birthplace of a King. Produced along with Charisa's husband James "Biscuit" Rouse this is new holiday music awaiting a place on your holiday playlist.
To purchase "Bethlehem" go here.
Credits
released December 1, 2021
Producer: James "Biscuit" Rouse
Co-Producer: Charisa the ViolinDiva
Arrangement: Charisa the ViolinDiva, Peter Powers, Joshy "Swing" Lozada
Mixing: Chris Parks, from Supa Dupa Sound
Charisa the ViolinDiva, lead vox & bgvs, strings, and solo violin
Lakecia Benjamin, Alto Sax
Henri McMillan, trumpet
Corey Wallace, Trombone
Chad Franklin, Keys and Organ
Jules Drucker, Guitar
Al Carty, bass
James "Biscuit" Rouse
From the Press Release
Charisa Rouse, contemporary violinist and vocalist has devoted her career to challenging every preconception of what the violin (and violinist!) can accomplish in contemporary music. Classically trained, her diversity has allowed her to travel the world, recording and performing alongside such artists as Demi Lovato, Vivian Green, Kim Burrell, Cyndi Lauper, William McDowell, Diana Krall, and Quincy Jones, to name a few. More than just a performer, Charisa fundamentally recognizes the importance of string programs in American public schools as an in-demand teaching artist. She has developed "the New Urban Strings Curriculum" targeted at reaching young minority string players; a curriculum which she uses regularly in the two NYC public school programs she founded a decade ago, reaching 200 black and latino students annually. As an established recording artist, she is constantly recording new projects, including a worship album to be released this year.
A native of Washington DC where she began her string studies in a very similar public school program, Charisa went on to the Bachelor's Degree cum laude on full scholarship, and later garnered her Master's degree in Music which brought her to the NYC area. Since then, Charisa has continued to perform regularly with her several diverse groups, winning the Apollo Amateur Night Competition, performing for senators and dignitaries, rocking next to Patti Labelle and Misty Copeland on BET Black Girl's Rock, winning the McDonald's Gospelfest Competition at the Prudential Center, on tour with Bernard Fowler from the Rolling Stones, and featuring at Summerstage in the city with her unique fusion of soul, jazz, hot pink violin, and voice.
For more info on her events and projects, please reach out to her at www.theviolindiva.com
Ivan Orr is a multi-instrumentalist, composer, performer, and writer. A native of Charlottesville, Virginia Ivan was involved with the forming and nascent days of The Music Resource Center as its first Program Director. A graduate of Virginia Commonwealth University's Department of Music, Ivan currently resides in Richmond, VA where he maintains an active performance and production schedule while serving as the Music Editor for Grown Folks Music, a position he has held since 2010.