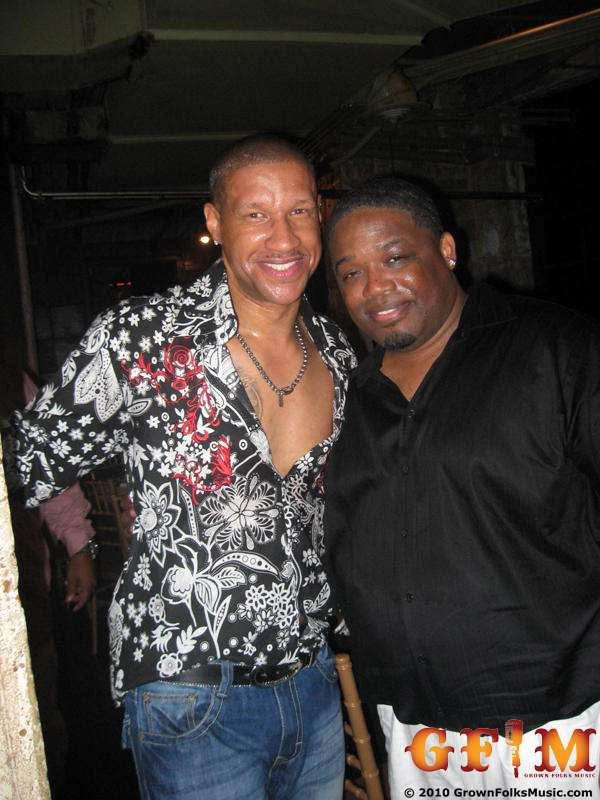 Hola my grown "peoples" 🙂
It's ya girl WestStyle Chronicles back from another episode of  "ATL Live On the Park". Last month, we brought you some exciting video highlights from DTP recording artist, Rudy Currence and party pics of some notable guests in the house. In keeping with this "grown & sexy" affair, ATL Live brought some "new school" contenders to square off with some time tested soldiers in the R&B game.
The night opened with Upfront Megatainment artist, Majic Massey. Now when Massey was first introduced, he was compared more to an Al Green. On that comparison, I will have to differ because in listening to his vocal styling, he has more reminiscent tones of Ron Isley. To showcase a more  distinguishable personality, I would have like to see Massey perform an intimate song however I think Massey does have some potential granted he develops more of his persona on stage and within the character of his songs.
Next on the mic was "the first lady" of Upfront Megatainment, Cassandra Batie. In looking at Batie you can't help but see the surreal physical resemblance to recording artist, Rihanna. However despite certain similarities, her vocals are stronger with touches of Erykah Badu and a nice blend of blues and jazz mixed together. As a  stage performer, she shows a lot of "tough cookie" attitude and definitely draws you in. While I hope the physical comparison will not create an uphill battle of living in Rihanna's shadow in the long run, I really look forward to seeing good things from her because she has a lot to offer.
As the night progressed, recording duo, Rock City brought their Caribbean flair representing the Virgin Island. High in spirit, Rock City's performance reminds you of a strong drink that hits hard on the first sip and keeps you with a "feel good" buzz. Just like a nice cocktail, Rock City is a combination of reggae, R&B and hip hop. Their chemistry and energy was very contiguous that even special guest and music mogul, Jermaine Dupri had to nod his head during their performance.
Soon to the stage was R&B crooner, RL from the group, Next who started with a medley of hits ranging from "Too Close" to self written songs like, "Just In Case". I really think RL is a talented songwriter and singer. He has a fiery passion that enables him to freestyle with a gospel/R&B feel at any given time. However, he can sometimes let his fire get the better part of his performance through his personal situations. Instead of channeling that energy "within" the music, he can sometimes push it in the wrong direction therefore taking away from the performance and the overall experience for the audience. Largely, RL gave the crowd a good show but I want him to shift those issues differently so it doesn't take away from his shine and appeal.
With the audience all riding high, the energy in house was electric as they gave an excited welcome to the "One Woman Man" himself, Dave Hollister. Breaking out with the Blackstreet hit, "Don't Leave" and preaching some "grown folks" talk from Bobby Womack's "If You Think You're Lonely Now", Hollister proved he hadn't lost his touch. As his set ended, Hollister gave a touching tribute to his good friend, Gerald LeVert and left the audience with an authentic and emotional moment as he graciously bowed off the stage. I don't think I can give enough praise for Hollister's performance. It was definitely a highlighting moment of the night.
But just when you thought it was over, the night was topped off with special guest, Tony Terry. Performing his signature R&B song "With You", Terry peeled back a time when R&B was known for classic and timeless wedding songs. Another song Terry performed was a new track called "Bedroom Banger". This particular song was not my favorite because I just didn't think it was the best fit for Terry. However, his other new song, "Should A Man Cry" was a great "real talk" melody which spoke about the inner thoughts and emotions of what a man should or shouldn't express and still be considered a man. It was absolutely great to see Terry rip the stage and bring back that classic R&B.
By and large, the show was a great mix of old school and new school. It was without question as celebration a good music. Many congrats to Shanti Das and Marlon Nichols for a successful show!!! To see some of the notable guests in the house, be sure to check out our pic gallery and be on the look out for the video highlights from the show!!!
Hope West is a music enthusiast and music photographer who has captured artists like B.B. King, Janet Jackson, Teddy Riley and many others.  A life long lover of music, Hope is a graduate of Full Sail University where she studied music engineering. She's also a proud "Florida Girl" born and raised in Ft. Lauderdale, Fl. and currently resides in Atlanta, GA as a "Georgia Peach". Hope is known for her creativity, sense of humor and quirky perfectionism. Artist(s) that make her freak out as a music fan: Sheila E., Jimmy Jam & Terry Lewis, Quincy Jones.