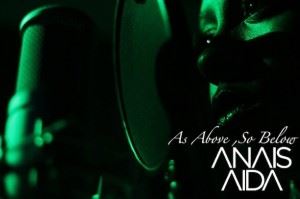 From the first few notes Anais Aida's take on the Janelle Monae composition "Say You'll Go" I somehow knew that this was a voice that I would be hearing much more from. If you didn't get a chance to check that out go here. Well she's back with a cover of a great tune by Anthony David(the title track of his latest project no less) another fave around these parts. This music is warm, I mean January 21st, just got out of the snow by the fire, pass me the Merlot warm. Singing and playing the way it should be done: tasteful. Enjoy!
To find out more about what Anais Aida is up to get the scoop after the jump.
From the press release
New York, NY (June 2011) After gaining rave reviews and a following in the blogosphere for her intimate cover of Janelle Monae's "Say You'll Go", singer-songwriter Anais Aida is ready to treat you and her newfound fans to some more beautiful, soulful music! Every Friday in the month of June, Anais will release a cover song, leading up to the release of her official first single "Love Can Burn", written and produced by Alejandro "Arca" Ghersi & Erin Rioux.
The first release in this suite of covers is "As Above, So Below", originally performed by Grammy® nominated Soul artist, Anthony David. Recorded in a quaint, dark recording studio in Toulouse, France, and armed with nothing more than an acoustic guitar (played by Matt Parad) and a microphone, Anais lets her vocals do the talking in an industry where far too many people are listening with their eyes and not their ears. Check below for a link to video of Anais recording "As Above, So Below". Anthony David has already gotten wind of the cover, which he's "REALLY diggin". You can also download "As Above, So Below" for free via her BandPage at