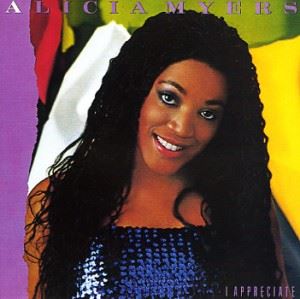 Guaranteed to put a smile on your face. NYC stand up! Where does this joint take you? We want to know! Check out more from Alicia after the jump. (Is it just me, or does she sound just like Alyson Williams on the Say, Say, Say intro?)
From her bio:
Alicia Myers' parents, Margaret Myers and the late Lawrence Myers, bought musical instruments for their talented children with hopes that they might become professional entertainers. Little did they know, their middle child Alicia, born November 20, 1957, would not only become an internationally known recording artist, but a survivor of breast cancer, and childhood tuberculosis. In April 1968 at age 10, Alicia and her older brother Jackie won first place in a talent show at Detroit's Martin Luther King Jr., High School, singing Marvin Gaye and Tammy Terrell's Ain't Nothin' Like the Real Thing. They later formed a band (The Move Mystics) and a girl trio (The Mild Tones) performing throughout the Detroit area until their disband in 1975. Alicia continued singing solo until 1978 when she became one of the lead vocalists with a band managed by Perk's Music Company (Al Hudson & The Soul Partners – now One Way).
"I Want To Thank You" (Kevin MCord), I Fooled You This Time (MCA/1982)

For three years she traveled, co-wrote and sang lead on several popular hits such as You Can Do It, Music, and Do Your Thang on MCA/Universal Records. They performed to sold-out audiences throughout Africa, Canada, Europe, and the United States. Impressed with Alicia's raw, three-octave, alto voice and the escalating public interest, Perk's Music and MCA Records decided it was time for a solo project. The outcome was her phenomenal 1981 debut album, Alicia, produced by One Way's bassist/writer, Kevin McCord. This album brought us such wonderful hits as the gospel/soul I Want To Thank You (Heavenly Father), Don't Stop What You're Doin' and If You Play Your Cards Right. Alicia recorded four successful albums with MCA/Universal throughout the 1980's. Her I Appreciate album contains the soulful ballads Don't Do Me This Way, and I Just Can't Stay Away (by Natalie Cole).
"If You Play Your Cards Right" (Kevin McCord), The Best of One Way: Featuring Al Hudson & Alicia Myers (MCA/1996)