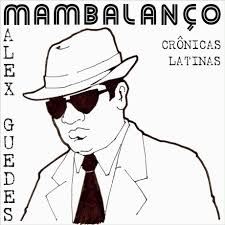 I have been meaning to do a post on Alex Guedes for a while now. I'm glad that I was actually able to sit down and actually post it today. Alex was brought to our attention by one of our ning community members from Brazil. Alex is a member of our community as well. What you didn't know that we have a ning community? Yep, we do and we also have a GFM Brazil group reppin' the great Brazilian Soul/R&B/Funk that Alex and other great artists of his caliber from Brazil create.
Anyone who knows me, knows that I should have had this post up a long, long time ago. The disclaimer on me is: I have a very strong affinity for music created in Brazil. My audition piece for college was a Tom Jobim composition. So for me this is the perfect storm of sorts. The influence of Soul, Funk and R&B transported to Brazil and then re-imported with the influence of all the diverse elements of Brazil. Sign me up. Of course this is the part where I would say "Where they do that at?". In Brazil is where and we present it right here at GFM is where.
Alex released a ten set collection of songs last month and it is available to listen to and download here. I wanted to provide you with a taste of the album here with the tune "Ladeira". This is a great song which combines a great montuno piano part with a soulful vocal layered on top. I hope you enjoy it and I believe I'm going to need to order up some Portuguese lessons off of Rosetta Stone.

Ivan Orr is a multi-instrumentalist, composer, performer, and writer. A native of Charlottesville, Virginia Ivan was involved with the forming and nascent days of The Music Resource Center as its first Program Director. A graduate of Virginia Commonwealth University's Department of Music, Ivan currently resides in Richmond, VA where he maintains an active performance and production schedule while serving as the Music Editor for Grown Folks Music, a position he has held since 2010.