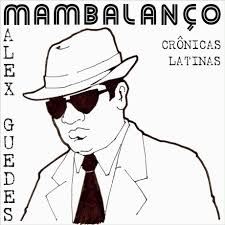 I have been meaning to do a post on Alex Guedes for a while now. I'm glad that I was actually able to sit down and actually post it today. Alex was brought to our attention by one of our ning community members from Brazil. Alex is a member of our community as well. What you didn't know that we have a ning community? Yep, we do and we also have a GFM Brazil group reppin' the great Brazilian Soul/R&B/Funk that Alex and other great artists of his caliber from Brazil create.
Anyone who knows me, knows that I should have had this post up a long, long time ago. The disclaimer on me is: I have a very strong affinity for music created in Brazil. My audition piece for college was a Tom Jobim composition. So for me this is the perfect storm of sorts. The influence of Soul, Funk and R&B transported to Brazil and then re-imported with the influence of all the diverse elements of Brazil. Sign me up. Of course this is the part where I would say "Where they do that at?". In Brazil is where and we present it right here at GFM is where.
Alex released a ten set collection of songs last month and it is available to listen to and download here. I wanted to provide you with a taste of the album here with the tune "Ladeira". This is a great song which combines a great montuno piano part with a soulful vocal layered on top. I hope you enjoy it and I believe I'm going to need to order up some Portuguese lessons off of Rosetta Stone.