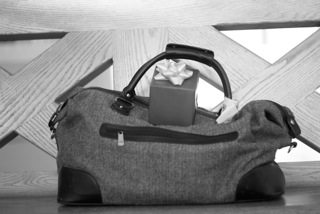 An old African Proverb states: "when the music changes, so does the dance." If you keep with this train of thought, R&B/Soul Keyboardist and Producer Aaron Hardin must have wanted to see some other moves from you. Coming Home For Christmas, is a collection of new jazz arrangements of old Christmas favorites. This album showcases both his compositional and orchestral arrangement sides, all while keeping in a jazz-fusion context.
Eric Roberson, for whom he plays and most recently produced "Picture Perfect" and "At the Same Time", characterizes Aaron as "the definition of a hustler." Having performed with and/or produced for acts such as Jesse Boykins, Yahzarah, Carol Riddick, Wayna, Ebrahim, Talib Kweli, The Pharcyde, and Pusha T, among others, he has become associated with the soul, R&B, and hip hop scenes. So this departure from the assumed norm is a definitive step in yet another direction.
This album features some extremely talented musicians and vocalists, who you should come to know if you are not already aware of. Christie Dashiell, as currently seen on NBC's The Sing Off with Afro Blue, is showcased on "Silent Night". Featured on "Rest Well, Gentlemen" is 2005 Shure Montreux Jazz Voice Competition winner, Nikoletta Szoke, alongside vocal arranger and equally talented vocalist, Claudia Melton. DC singer/songwriter, Levi Stephens, lends his talents to "I'll Be Home For Christmas", while DC vocalist Kenny Wesley contributes atmosphere to "LDB".
Influenced by both newer acts (Robert Glasper, Kendrick Scott, Brian Blade Fellowship, Yellowjackets) and older (Oscar Peterson, Bill Evans, Vince Guaraldi, Ahmad Jamal), Aaron looks to offer you a fresh take on holiday music while blending jazz, soul, R&B, and even hints of classical. He follows in the footsteps of a number of his counterparts, as this album is a fully independent release being made available through his label grooveworks ENT, a division of Hardin Enterprises, LLC. The album and digi-booklet will be available on November 22nd on www.grooveworksENT.com, and shortly thereafter on iTunes and amazon.com, for $6.97. Autographed hardcopies will also be available via mail order for $10.