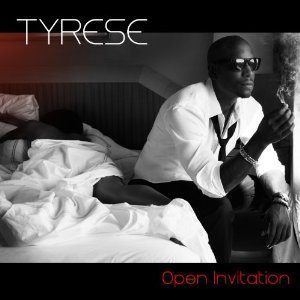 Tyrese Gibson is known as a man of many talents. Since he has been focusing so strongly on his acting talent for the last few years, it has become almost easy to forget that he originally became a star based on his musical talent. Tyrese is one of those artists that when he is good, he is really good, creating classic, modern r&b. On the other hand, when he misses, well…. The good news for fans is that he is very good on "Open Invitation". I'll admit that I approached this project with more than a little caution. The music industry is thirsting for solid albums that you can play with little to no skipping around tracks. Most of the current great music is coming from artists who are not as well known as Tyrese, so it's nice to have someone with such a high level of fame work hard to maintain the quality of his product.
To start off, I will say that this release has done well, but I believe that it could have done even better to this point with a different selection for the lead single(s). I truly wish "Stay" or a track similar to "Stay" would have been chosen as the lead single. "Too Easy" and "I Gotta chick" are expected, clichéd tracks that dwell in the "I'm the man, so I'll use four letter words and brag about my cars" territory, while "Stay" shows Tyrese's strength as an artist- by showcasing the best of both his singing and songwriting talents. "Stay" sounds like the very kind of music that Tyrese's friend the legendary Teddy Pendergrass would have been making in modern day. The infectious finger snap beat just pulls you in. "Best of Me" is a breezy track that shows a vulnerability that has been missing from the male side of r&b for a while. "Nothing on You" provides the confidence boost for anyone who is a relationship with a person who is either powerful and/or is a high profile position. Of course Tyrese provides some bedroom background music on "One Night", "It's All On Me", and "Make Love".
"I Miss That Girl" is a personal favorite. The opening instrumentation reminds me of another favorite track, Raphael Saadiq's "Still Ray". "I Miss That Girl" sounds like modernized doo wop. I can envision a video with Tyrese, a microphone and three background singers crooning the tune out while remembering the best times in a past relationship. "Walk: A Poem for My Fans" is an unexpected treat in which Tyrese peels back the layers of his soul to offer fans a peek into his spiritual side. Since he's now on an independent label, Tyrese apparently had something to prove with this release. Mission Accomplished.
I recommend that you add "Open Invitation" to your music collection, especially if you are looking for a new "soundtrack" to entertain your significant other. You can find out the most recent news on Tyrese by following him on Twitter @Tyrese. "Open Invitation" is available for purchase at both ITunes (the ITunes version includes bonus tracks) and Amazon.com. If you're still not convinced, check out this extended listening party for the cd. And please remember, this cd is not for the kiddies, it's strictly for the grown folks.