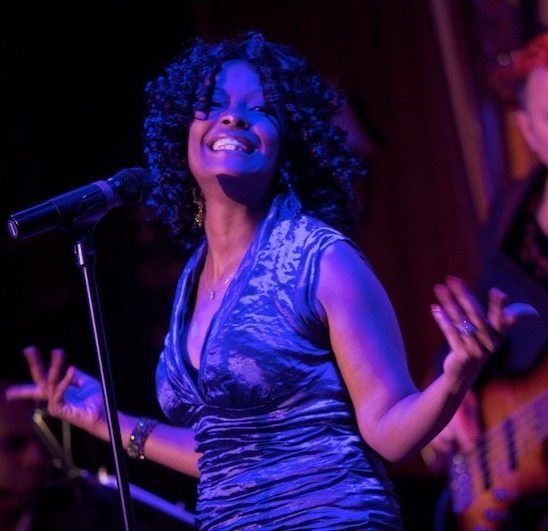 Vivian Sessoms Returns to Feinstein's to Give You Her "Heart"
(New York, NY — April 3, 2012) — Vivian Sessoms, the critically-acclaimed songstress known for her rich, melodic and captivatingly soulful vocals, returns to Feinstein's at Loews Regency, 540 Park Avenue at 61st Street, for another highly-anticipated performance entitled "Heart" on April 22, 2012 at 8:30pm (dining begins at 6pm) [$25 cover, $25 minimum food & beverage]
"Heart" will showcase various song renditions that Vivian considers "some of the most beautiful love songs ever written, old and new." It will include covers by Burt Bacharach, Elvis Costello, The Weepies, Badly Drawn Boy, Barry Manilow, Grace Jones, and Tammi Terrell, as well as a few original songs and Vivian's personal arrangement of Rob Thomas' "Unwell" with Matchbox 20 . (see video clip below)
Sessoms' 2011 debut performance at Feinstein's received rave reviews:
"It is always such a fantastic surprise when a new artist comes to Feinstein's and just blows the roof off with their talent. Vivian was one of those artists and we were thrilled to have her here." —Feinstein's Management
"When Vivian Sessoms erupts onto the stage with a robust, funky arrangement of "Is You Is Or Is You Ain't My Baby?" (Louis Jordan), my pen abandons words for exclamation points…This is a formidably talented performer with a fierce band." — Cabaret Scenes
Sessoms will again be accompanied by an all-star band for "Heart". In the band: Chris Parks – acoustic & electric bass, acoustic guitar (Amel Larrieux, Roberta Flack, Sheila E.); Michael Mancini — piano & keyboards (Eric Clapton, Sheryl Crow, Mary J. Blige, Bruce Springsteen, Phoebe Snow); Eric Brown — drums & percussion (Rachelle Ferrell, Lala Hathaway, Deborah Cox); and Noam Dworman — acoustic & electric guitar, mandolin (owner of The Village Underground, former owner of The Cafe Wha/Cafe Feenjon, NYC).
PERFORMANCE CLIPS
Feinstein's 2011 = Is You Is or Is You Ain't My Baby
Rob Thomas' homage to Vivian's rendition of Unwell
Feinstein's 2011 = Cherchez La Femme
ABOUT VIVIAN SESSOMS
Born and raised in Harlem, Vivian learned the wonder of music at an early age. Her mother was a session/jingle-singer, her father a flautist/percussionist (who's played with the likes of James Brown), and she is the niece of jazz legend Nancy Wilson. Surrounded by nightclubs, churches and regular jam sessions at her family's home, she was already singing by the time she could talk. "Growing up, there was always music to express the way I was feeling. I was so immersed in it, that I kind of viewed music as a backdrop to my life", she recalls. As a teen, she was approached by Melba Moore, Teddy Riley and Stevie Wonder to perform alongside them. She then went on to work with Joe Cocker, Rob Thomas, P!nk, Patti Austin, Patti Labelle, Sinead O'Connor and most recently Cher to name a few. She has been a featured vocalist for jazz artist Chris Botti, composer Ryuichi Sakamoto (Yellow Magic Orchestra, High Heels, Little Buddha)and Towa Tei (international DJ and former member of music group Dee-Lite). Not content to stop there however, Vivian soon began to write and produce for Lalah Hathaway, Amel Larrieux, Ryuichi Sakamoto, Jeff Kashiwa, David Morales, Towa Tei and Junior Vazquez among others and had a feature song in the film "Moonlight Serenade" starring Amy Adams & Alec Newman.  In 2007, Vivian along with writing partner Chris Parks released a debut CD "Sunny One Day" (under the moniker of Albright for Vivian's maternal grandmother) to very impressive reviews. Vivian is now putting the finishing touches on the follow up CD "Heart", a jazz record that will feature some folk and soul, and a third CD "Radiant" that will feature pop and soul music. Both records are scheduled for release summer of 2012.
For additional information on Vivian Sessoms, visit: www.VivianSessoms.com . For ticket information visit: Feinstein's ticket purchase info
For press inquiries, please contact: Katrina Boswell — Katrina@katwalkmedia.com.