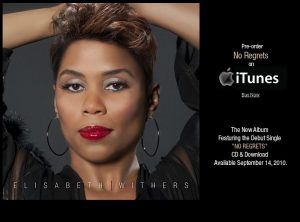 September is shaping up nicely for new releases as Elisabeth will be dropping her new album, No Regrets
on September 14th.
From her official bio:

Known for her role as the scene stealer, "Shug Avery" in Oprah Winfrey's mega Broadway hit, The Color Purple (Alice Walker); the Tony Nominated actress and national recording artist hails freshly from the chilly Midwest.

Having shared the stage with several artists as JENNIFER LOPEZ, American Idol winner FANTASIA, MARY J. BLIGE, CELINE DION, QUINCY JONES, STEVE SPIELBERG and most recently rapper, QTip, R&B balladeer, JOE as well as ANGIE STONE to name a few.

The singer/songwriter says one of her most rewarding professional highlights was performing alongside singers LISA FISCHER & PAULETTE MCWILLIAMS as a Vowell on the children's PBS special Between the Lions which encourages children's literacy. Elisabeth said, "teaching children to read through the power of music is the ultimate."


It comes as no surprise, how Elisabeth quickly garnered the 2007 BET AWARD Nomination for "BET J Cool Like That" for her It Can Happen To Anyone album (Blue Note Records). She also, received the VH1 Best New Video Release for her BE WITH YOU video (directed by Lenny Bass) and the New York Humanitarian Award for her contribution to the arts. Her alma mater, Berklee School of Music (Boston, MA) honored the performer with the Distinguished Alumna Award in recognition of her achievements in the arts. Further, United Airlines and Corona featured Elisabeth's music along with co-writer/producer, Toby Gad in their nationwide campaigns.

Currently, Elisabeth is working on her sophomore album and performing nationwide at concerts, conferences, galas and festivals for such clients as KissFM radio, Health Corp with Dr. OZ, The UniWorld Group, National Black Caucus, ASCAP, The Links, Omega Psi Phi Fraternity and others.

This super woman enjoys exercising regularly and has been expanding her horizons by setting aside her time, talent and successes to encourage young inner city girls through her foundation, TOO BEAUTIFUL. The organization focuses on mentoring and empowering young women by encouraging self esteem, personal development and hands on career building skills.