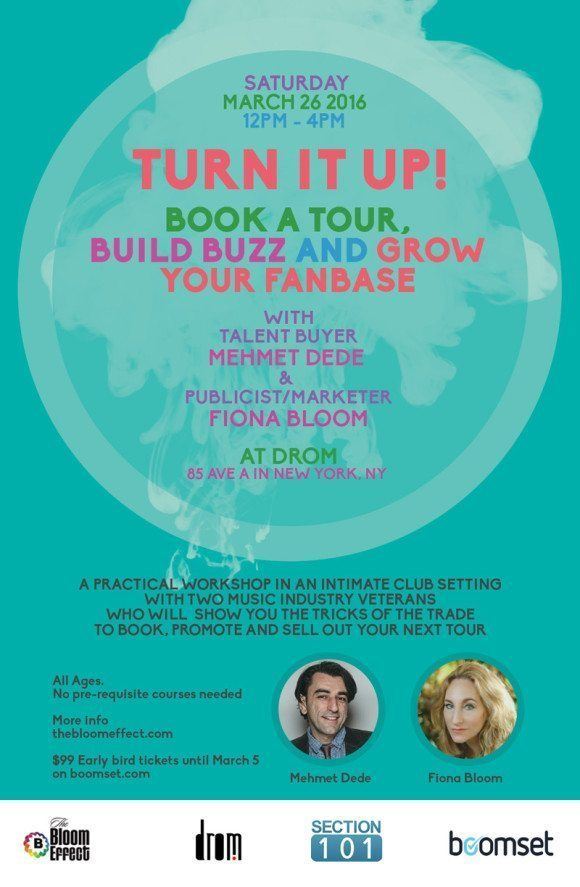 NYC area #Growns if you are an artist or you know one make sure to let them know about this fantastic event that's going down March 26 at Drom in NYC.
Check out the press release below…
TURN IT UP!
Book A Tour, Build Buzz and Grow Your Fanbase
New York City – A refreshing workshop for independent musicians, aspiring artists, savvy managers, publicists and anyone looking to build a career in the live music sector with a practical guide from A – Z in booking tours and selling out venues.
The backdrop is an intimate club setting where two music industry veterans will share with you their experience to book, promote and sell out your next tour:
Talent Buyer Mehmet Dede and Publicist/Marketer Fiona Bloom
There are a myriad of symposiums, panel discussions, seminars, and lectures in this area, but none that break down the touring and marketing aspects with such succinct style. Step by step examples, demos, logistics, strategy, best practices, real life experience and question and answers are all part of this workshop.
Where: DROM – 85 Ave A, New York, NY 10009
When: Saturday, March 26 from 12Noon – 4PM
Format:
Mehmet Dede – Presentation (90)
Break (30 min)
Fiona Bloom Presentation (90 min)
Q&A (30 min)
The cost for this one time event is $99 Early bird (until March 5)
$120 Advance
$150 At Door
All Ages * No pre-requisite courses needed
Register for this event Saturday, March 26th https://boomset.com/apps/eventpage/43657#
ABOUT:
The Bloom Effect, founded in 2007 by Fiona Bloom is a unique, full service boutique that specializes in branding for artists, personalities, music labels and lifestyle companies. The firm offers its clients a wealth of insight/knowledge and expertise as well as the benefits of a huge rolodex of premium, global contacts. The Bloom Effect produces a range of events, parties and live shows as well as handling branding, publicity, digital marketing, A&R consulting and promotion services. With having produced over 2,000 music showcases and consulted on hundreds of album projects, the company has played a significant role in the careers of over 300 artists.
Mehmet Dede is an art presenter, festival curator and tour producer, having presented hundreds of concerts and events series at seminal American institutions like Lincoln Center, Central Park SummerStage and Kennedy Center. He currently serves as Director of Programming at NY music venue Drom and is the co-founder of the famed NY Gypsy Festival. His previous work experienceinclude stints at creative agency Giant Step and Universal Music Group.
Sponsored by:
Section 101 delivers a dynamic web-based platform that presents simple and effective solutions for musicians, authors, Film/TV/Theatre artists and info/entertainment brands to manage and maximize their online presence.
Boomset is a mobile event app with an innovative suite of services.
Ivan Orr is a multi-instrumentalist, composer, performer, and writer. A native of Charlottesville, Virginia Ivan was involved with the forming and nascent days of The Music Resource Center as its first Program Director. A graduate of Virginia Commonwealth University's Department of Music, Ivan currently resides in Richmond, VA where he maintains an active performance and production schedule while serving as the Music Editor for Grown Folks Music, a position he has held since 2010.