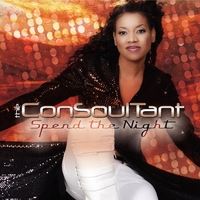 The AJC has a great story about new Atlanta singer Selita Boyd, better known by her stage name The ConSoulTant.  They tell her story about her life long love affair with music, and how she had to put her dreams to become a singer on hold in order to sustain her family.  She opened a recording studio called Top Knotch Recordings in Atlanta, but never was able to dedicated enough time to really getting her own music career off the ground with her hectic work schedule, but the studio saw talents from So So Def, Block Entertainment, and LaFace Records stop by for sessions.
Now, her family is repaying her help for the past several years and putting themselves behind her as she releases her debut CD Spend the Night, which is out today.
In terms of music, I like her sound. It's good R&B and has a diverse tracklisting, with more smooth midtempos to uptempo dance songs.  And the album's single "Have You Googled Yourself Today?" is right up there in terms of bridging the gap with soul and today's technology!
Hopefully we'll be hearing more from her — we wish her the best of luck here at GFM.  You can buy her CD on CDBaby, or sample more songs at ConSoulTant.com or MySpace.com/Consoultant.