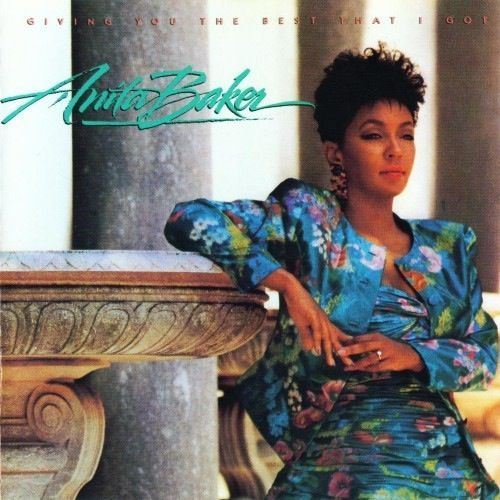 If you don't have our Song of the Day in your collection try the link below, if that doesn't work, the album cover above may be the closest you get to the song today. The reason being is that Anita Baker covered the Carly Simon/Michael McDonald classic "You Belong To Me" on her 1994 Rhythm of Love LP(which every video on You Tube under this title brings up) but this "You Belong To Me" is the closing song from her 1988 Giving You The Best That I Got LP. McDowell's, McDonald's. I kid, because they really are two totally different tunes that just happen to share the same title. We will be featuring Anita's cover on our Sunday "Cover Me" series this month.
1988's "You Belong To Me" is probably one of Anita Baker's more blatantly sounding electronic songs. Sure there's guitar a plenty on "You Belong To Me", but the drum machine and synth bass here are definitely a lot further up in the mix and it has those unmistakable late 80's sounds tuned in. In retrospect it makes me wonder: Did Anita Baker focus in on "You Belong To Me" and decide to make a radical departure from the lockstep drum machine/MIDI programming world for her next album?

Ivan Orr is a multi-instrumentalist, composer, performer, and writer. A native of Charlottesville, Virginia Ivan was involved with the forming and nascent days of The Music Resource Center as its first Program Director. A graduate of Virginia Commonwealth University's Department of Music, Ivan currently resides in Richmond, VA where he maintains an active performance and production schedule while serving as the Music Editor for Grown Folks Music, a position he has held since 2010.