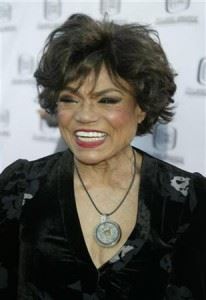 Our thoughts and prayers go out to the friends and family of Eartha Kitt.
By Martin Weil
Washington Post Staff Writer
Eartha Kitt, 81, whose purring sensuality, saucy seductiveness and indomitable determination helped her climb from Southern cotton fields to singing stardom and world celebrity, died Dec. 25.
A family spokesman said she died in Connecticut of colon cancer. She had been under treatment recently at a hospital in New York, but, he said, "she never stopped working."
In a career that stretched over six decades, the lithe and lissome Miss Kitt, who became a symbol of international sophistication, scored a series of sultry-voiced song hits, among them "Santa Baby," "I Want to Be Evil" and "C'est Si Bon."
She acted on Broadway and in movies, won two Emmys and ultimately became known for the sheer longevity and seeming agelessness of her vocal talents and slinky figure.
Over the years, she danced with Katherine Dunham's troupe, became a fixture in Parisian cabarets, cut record albums and played the role of the Catwoman on an early and much-remembered "Batman" TV series.
She drew vast notoriety during a 1968 meeting at the White House when she startled Lady Bird Johnson, the wife of President Lyndon Johnson, with a vehement criticism of the Vietnam War, one which she herself later called a diatribe.
ad_icon
That incident proved a setback to her career, costing her bookings for years, but it could not break her spirit.
When she sang the disco hit "I Will Survive" during a 1999 appearance at Blues Alley in the District, a reviewer in The Washington Post said she turned it into a "highly personal anthem of pride and perseverance."

Those were among the qualities ascribed to her during a life she once said had been one "of cotton and caviar." The cotton came first, the caviar later. The cotton referred to the place of her Jan. 17, 1927, birth in North, S.C., and to her childhood on hardscrabble, sharecropping farms during the Great Depression.
"In essence, I'm a sophisticated cotton picker," she wrote in an autobiography, "Alone With Me."
According to published references, Miss Kitt, who at one point lacked shoes and wore a dress made from a potato sack, was the daughter of a white father and a black Cherokee mother. Abandoned by her mother as a child, she said she thought of herself as an orphan. While she was still small, an aunt took her to live in a Harlem apartment.
In New York, a teacher recognized her abilities, leading to her enrollment in the famous High School of Performing Arts, the incubator of many stars.
A chance encounter led to an audition with the Katherine Dunham Dance Company, and at 16, she was earning $10 a week and touring with the troupe.
While in Paris in 1949, she left the group to begin singing in nightclubs. After her debut at Carroll's, she became the toast of the city.
Soon, Orson Welles cast her in a play as Helen of Troy, whose legendary beauty inspired the Trojan War. As Miss Kitt recalled it, Welles said he chose her because she "was the most exciting woman in the world." So, Miss Kitt recalled, in a seeming hint of her characteristic sauciness, "I just played myself."
Returning to the United States, she appeared on Broadway in "New Faces of 1952," which led to RCA recording work and to a glittering lifestyle that included romances with various aristocrats, celebrities and playboys. She was married in 1960 to William McDonald, from whom she was divorced. A daughter survives.
Miss Kitt performed in Las Vegas, in Paris, on television and on Broadway, and she was awarded a star on the Hollywood Walk of Fame. In a bodysuit on the "Batman" TV series, she growled her way to even greater fame.
The White House incident came during a meeting on juvenile delinquency. Her longtime efforts with antipoverty groups apparently helped win her an invitation. According to a news account, she asserted that a main reason for delinquency was that "there's a war going on, and America doesn't know why."
That cost her. "I lost a lot of valuable years," she said. She worked mostly in Europe for about 10 years and then returned to the United States. The first album she cut in the United States in years was called "Back in Business."
She sang in cabarets. Her voice was heard on TV commercials, she won Emmys for her voiceover work on the daytime animated show "The Emperor's New School," and she played the Wicked Witch in a 1998 musical version of "The Wizard of Oz." Walking and proper eating kept her fit, she said.
In Washington, she drew admiring audiences to Blues Alley.
During a 2005 appearance there, she thanked the management for leaving an orchid in her dressing room. "But next time," she said, "bring me a man."