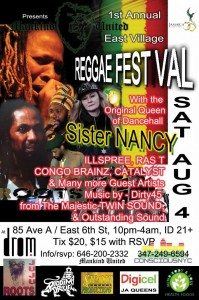 It's long overdue, but NY is finally launching the first Annual NYC Reggae Festival conceived by NY's MANKIND UNITED on Saturday, August 4th in the downtown E.Village at DROM.
The Reggae Fest features many wicked Reggae Artists plus a very rare performance from the Original Queen of Dancehall- Sister Nancy.  Sister Nancy's career spans over 2 decades. Her most famous song "Bam Bam" is labeled as a well-known Reggae Album and a classic. She explained her absence in the recording scene over the last years as she wanted to give other female artists a chance.
Also on the bill is ILLSPREE who brings hardcore roots and vibes with 100% originality.
Ras T straight from JAMAICA with Fearless Lyrics, Vibes and Riddims.
Music provided by one of the heaviest sound systems out of Brooklyn called The Majestic Twinsound.
The Festival happens to coincide with the 50th Anniversary of Jamaica's Independence (Aug 6th) and this may be one of the only concerts recognizing this important piece of history in NY- however, around the Globe, the world will be celebrating and honoring 50 years of Jamaica's Independence –  Come celebrate at DROM.
August 4th- The 1st Annual NYC Reggae Festival. You don't want to miss it!
$20.00 at door $15.00 w/ rsvp with mankindunited@gmail.com
21+ 10-4am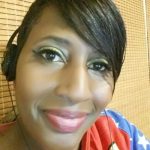 I have questions. Artists have answers.