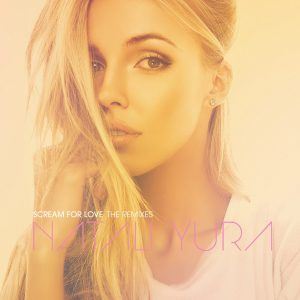 GFM Fam it's time to move with the sounds of of international pop sensation Natali Yura! Natali's "Scream For Love" is currently burning it's way up the Billboard Dance/Club Chart and we wanted to take a little time to put you up on the groove today. Be on the lookout for a remix album dropping this Fall from Natali featuring: Dimitri Vegas & Like Mike, D-Wayne, Kue, Solidisco, Guy Scheiman, Ralphi Rosario
and Mike Rizzo.
"Scream For Love" on iTunes.
Natali Yura
    She's been called the "next major breakthrough pop sensation" and "mesmerizing" by media tastemakers and lauded for her "nuanced, yet powerful voice." She's landed a bona fide smash club hit with her debut single, and is ready to show America there's a new pop princess in town. Her name is Natali Yura, the 22-year-old budding pop starlet who's poised to take over the pop/dance world as her debut single, "Scream for Love," climbs the Billboard Dance/Club Play chart.
    "Music transforms me. When I'm in the club or hear a great track, I feel like a different person. I can do anything. I'm more free and open and able to express myself. In real life, we all have different emotions but you sometimes have to block them and act the way you're supposed to. You can't really talk freely about what you feel inside. But, when I'm singing, it's a different voice that comes out of me from a deeper place," says Yura, who was born in Seoul, South Korea but grew up in the far East side of Russia deep in Asia. Over the years, the jetsetter has also called London, and New York her home, and currently splits her time between Russia, England, and the US.
    Singing since before she can remember, as a toddler Natali would sing anywhere and everywhere she could for her friends and family before entering the world of singing competitions at the age of 8. She hit the recording studio for the first time at age 12 as part of a major televised Russian competition, which lead her to participate at a number of singing contests. One ill-fated opportunity came at age 14 when the always fashion-forward singer's very supportive mother crafted a gorgeous dress for one competition, not realizing it would be utterly see-through in the lights. "I felt literally naked onstage and at age 14, that's embarrassing," she says. "I forgave my mom," Natali jokes.
    Devastated by the laughing crowd, Yura vowed to stop performing in competitions. But, she kept on singing. "I never stopped singing. I performed for my family and friends like I've been doing since before I can remember. It just felt normal for me. When I was little, it would actually bother my family because I wouldn't stop singing. I was a very outgoing and competitive child and always liked being the center of attention. And, I just loved music. It could be rock, pop, hip-hop, dance, girl singers, guy singers, boy bands, everything and anything. I listen to different genres of music from Frank Sinatra and the Rolling Stones and the Kinks to the Clash, Prodigy, Television, Blondie, to Kid Cudi, Jay-Z, Zedd, Michael Jackson and Madonna. Music is like an endless universe that I'll never stop exploring," says Yura.
    Her self-imposed exile from performing lasted a mere four years because at age 18 she met a producer who presented her a song to record. "I started to take it seriously again. I took more vocal classes and realized this is where I need to be," she says. It was in the U.S. that she met the man who would become her mentor – legendary film producer/former manager Martin Bregman (Al Pacino, Bette Midler, Barbara Streisand, Faye Dunaway). Bregman took the rising star under his wing and introduced her to Anna Strasberg, who saw a spark in the young talent that inspired her to give Yura a scholarship to the prestigious Lee Strasberg Theatre and Film Institute in New York City. Throwing all her passion into her studies at Lee Strasberg, Natali would commute several hours each way between Albany and Manhattan every few days to attend classes at the renowned studio, sometimes being up for over 24 hours so as not to fall behind at her college upstate.
    "There were days when I felt I would die from lack of sleep, but I always made it through somehow. There's been a lot of starts and stops, but I was determined. In the end, it was my manager who sent a demo I had made to his friend [Sony Music/Bystorm Entertainment A&R exec] Kirk Lightburn [who is credited with discovered J. Cole]. Kirk said he didn't like the song, but he liked my voice and wanted to know more," says Yura. Lightburn agreed to come on as co-A&R, and then hooked Yura up with dance-pop DJ/producer Matthew LeFace and vocal producer Alan Nglish (CeeLo Green, Taio Cruz, McFly) to work on her what would be her debut self-released single, "Scream for Love." The single debuted at No. 48 on Billboard's Dance/Club Play chart in August 2013 and climbed to No. 27 in just two weeks giving the artist her first Top 40 hit on the dance chart. The single is #24 and climbing, as of the soon to be published August 24 edition of the Billboard Dance Club Play chart, nearing entry into the coveted group of Top 20 club songs in America.
    "We had so much fun in the studio," muses Yura. "Those two days went so fast even though we were working long hours. It felt like I was just having a good time with my friends instead of recording a song, and I think you hear that on the song. It makes you want to move and dance and feel something."
    On first listen, the infectious "Scream for Love," which has been remixed by Matthew LeFace, Dimitri Vegas & Like Mike, D-wayne, Kue, Guy Scheiman, Ralphi Rosario, and Mike Rizzo and released on "Scream for Love: The Remixes," might appear to be a love song set to dance music. But, for Yura, it has a much deeper meaning. "I really connect to this song. For me, it's about how even though I have so many people around me I can be a very lonely person. This song is about wanting someone to be next to you… emotionally," she says. "And, the remixes are so cool. They feature a lot of parts from the song that we didn't use in the radio version to make it more interesting. I love how each song is painted with a different color," she says.
    The critics rave about her debut offering, as well. "'Scream for Love' is a magical yet intimate journey of modern day love, oozing with Yura's delicate yet powerful voice effortlessly laid over a bed of anthemic and uplifting melodies," praises Examiner.com. EQ Music gives the track its stamp of approval as well, calling the hit "a big room anthem filled with euphoric waves of club bopping bounciness…"
    Though the dance/pop/club hit is a big part of who Yura is as an artist, she teases, "This is just the start of what I want to do. This song shows one part of what's inside of me, but you haven't seen all of me yet. I want to make music that makes you want to move instantly!"
    Stay tuned for Natali Yura's debut as-yet-untitled EP, which will include "Scream for Love" as the first single, coming in early 2014!
For more information:
Official website: nataliyura.com
Facebook.com/nataliyura
Twitter.com/nataliyura
YouTube.com/nataliyra
Soundcloud.com/natali_yura