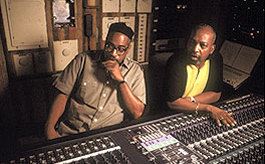 Legacy Recordings presents – Love Train: The Sound of Philadelphia, Part 1, available now on a 4-CD set.  I saw the premiere this weekend on PBS and it was excellent.  The New Stylistics, Harold Melvin's Blue Notes, the O'Jays, The Delphonics and many many more.  Looking good and sounding good as well, this should be mandatory viewing for all upcoming artists and musicians as an example of true professionalism, showmanship and longevity. Check your local listings for the replay. You can purchase the set using the link above or directly at PBS.
Special shout out to SonDan at the most informative & entertaining Old School Music Blog (OSML) on the net for the tip!
Classic McFadden & Whitehead, "Ain't No Stoppin' Us Now", (Jerry Cohen, Gene McFadden, John Whitehead), Philadelphia International/1979.