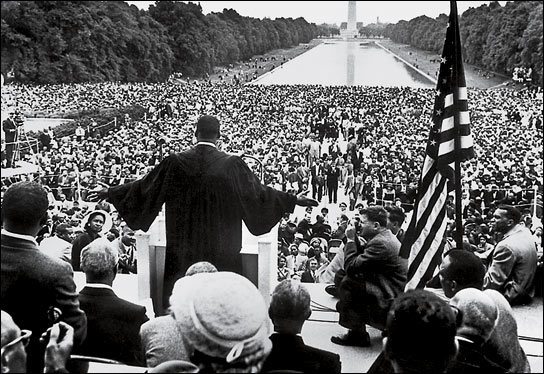 Originally posted April 5, 2008
I had the wonderful experience of checking out the museum exhibit of the "King Papers" last year when they were here in Atlanta. I can truly say it was a profound moment. One I will never forget. In remembrance of Dr. King's life and the 40th anniversary of his assassination, I want to share a letter written by him that spoke not only then but in our present day as well. It was written shortly after two teenagers died within the riots.
An Open Letter to Negro Youth

I do not ask you to cool it, on the contrary, I urge you to become active in the freedom movement and to make it an irresistible power. I urge you to be prepared to use your great energy in nonviolent mass action protest in your community.

You can march in the streets and make this nation aware of your just grievances. You can help mobilize your elders to go to the polls and to put their voting power to work for you. You can organize at the grass roots level and demand police protection and respect. You can call for justice and freedom now.

The future of the Negro people may well rest in your hands. It's up to you.

-Dr. Martin Luther King, Jr.
Dr. King was a great civil rights leader but more than that, he was a prophetic and prolific voice that still stands today. Incredibly, he was probably one of the most profound thinkers of our time. And with a unique blend, he was a combination of Christian servant hood, intellectualism, and relevance in a chaotic time in America. Sometimes we ask the question, "what would Martin say about this issue or that in our present world?" With all our searching, we may never think that maybe Dr. King already answered those questions. It is said in an ancient scripture, "there is nothing new under the sun." Whether it's the "Vietnam War" or the "war in Iraq", issues may come in different forms but it's still the same issues. Maybe if we read the road map of his words, his speeches, and some of his sermons, we might find he's already given answer to the issues we see today.
Rest in peace, Dr. King…..

Hope is a music enthusiast and continual student of photography. Also known to rock out a quiet church or elevator with her current ringtone, Tom & Jerry's Uncle Paco, "Crambone".