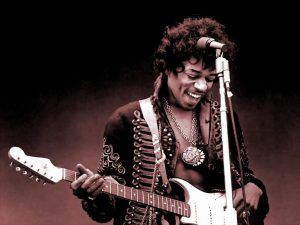 40 years ago today the music world lost one of the greatest guitarist ever to pick up the axe. Although Jimi Hendrix is no longer with us his legacy lives on in almost everyone who has ever plugged in to a Marshall Stack.
Hendrix has always represented to me a continuation of the lineage of musical greatness that this country has produced often under less than accommodating standards. The spirit of the first virtuoso banjoist or fiddle player to play for an audience on these shores was fully present in all of Jimi's playing, yes it's that deep. Jimi's rendition of "The Star Spangled Banner" wasn't blasphemous, it was so real that many couldn't handle it then and some still can't handle it now.
We would not be GFM if we did not take out some time today and pay homage to this musical giant. Thank you Jimi for the music!