From time to time, we like to share interesting, innovative and sometimes just plain obscene gadgets and music related tech products from the 'luxury' world to dream, laugh or just complain about.  For the bling loving audiophile, we have these ridiculous diamond encrusted earphones.  Just in time for Christmas…..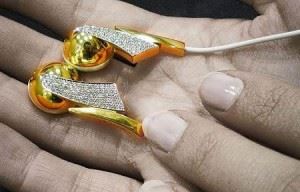 We've come across a wide array of headphones. But in all our sound journeys as audiophiles, never have we come across a pair of earphones that is more 'pimped out' than this one. The device is made from 18 carat gold, encrusted with 118 of the highest quality diamonds and the sound you get is stunning. The 59 diamonds gracing the earphone are individually set in gold. This gives a lovely shimmer, sparkly effect. The makers say that the earphones are very comfortable, despite all the weight the bling adds. The earphones have a white wire with a standard jack that fits into most MP3 players and computers.
Richard Slack, managing director for the firm, said: "We were first shown these earphones by a client at an Aston Martin show and our initial rection was 'wow'."As well as looking fantastic, the sound quality is also very good. We have the only pair of Casa Gi earphones in the UK and they are currently in pride of place in our shop window. They are attracting a lot of attention but as of yet we haven't found a buyer. I think they are aimed at fairly extrovert people, maybe a sports star or someone in the acting profession – they are the ultimate in bling."
The magnificent earphones are made by the famous jeweler Casa Gi in Belgium. They are for sale in Bristol at Clive Ranger jewelery shop for $5,180.