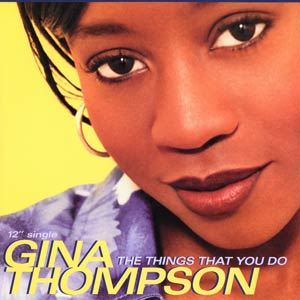 Haven't heard from her in a while, but as part of the late 90's scene that helped propel Missy Elliott to superstardom, this record was a club staple. She's back with a new album, Missing You (Sunset Urban/2009), which you can check out after the jump.
Written and produced by Rodney "Darkchild" Jenkins, this is from the Nobody Does It Better album (Mercury/1996). From her bio:
Platinum selling artist Gina Thompson returns with her long awaited third studio release. Gina released her first single "The Things That You Do" on Mercury/Polygram records with an innovative collaboration from P. Diddy and Rodney Jerkins, along with a key feature from Missy Misdemeanor Elliot. This single set the stage for Elliot and solidified Gina's position amongst the industry elite. Gina subsequently toured for three years and went Platinum internationally.

What more could she want? According to Gina, family. She was raised in the church and family is very important with her. To connect her family to her music she named her company after them: MaLjo Entertainment. With a single that never left radio she is back with a new album to compliment.