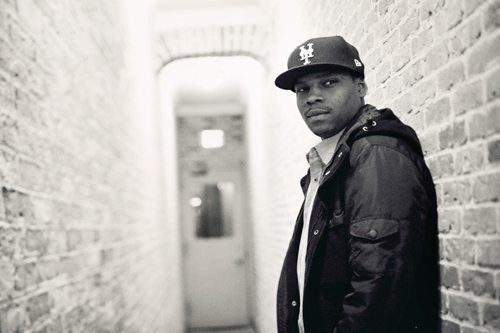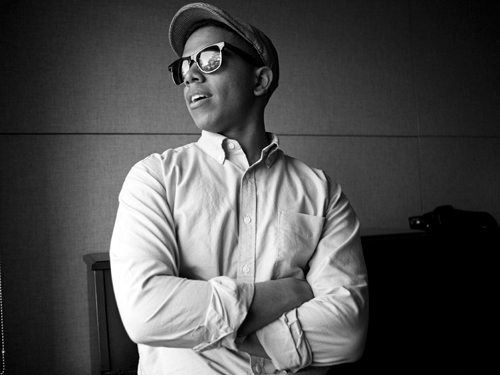 DB2
GFM Fam should be familiar with the work of DB2 from his work with Anais Aida(Gravity and Say You'll Go covers). DB2 is an artist/music producer who just graduated from the Clive Davis Institute of Recorded Music at NYU. He has recenltly produced a 9-song EP entitled Settle For Greatness as a collaborative effort with hip hop artist Najee The 1. Their first single was just released via Jay-Z's Life + Times.
DB2 and Najee The 1 recently chatted with GFM about the project.
GFM: The title of the project and final track on the set is Settle For Greatness… for me it was an immediate attention grabber, can you tell us a little bit about the inspiration behind it?
DB2: Najee and I have been interested in the word "greatness" for quite some time and in the process of understanding the subjective nature of its definition, we fell in love with it. To us, greatness is a state-of-being where you constantly push yourself towards excellence; you are constantly growing, bettering the things that you do. Settling by contrast is a much more passive word. It is the action of accommodating yourself, to be conformed or comfortable. Even though it sounds oxymoronic, this figure of speech has become our lifestyle. We have adapted it to essentially everything we do. From the music we make to the way we carry ourselves, we will not settle for anything other than greatness.
NT1: You live before you create. Gather inspiration then reveal it as you feel. So, I was in a space where I was looking to push myself and really take it to the next level. Inspired and ready to elevate, hence the intro title. It just so happened that my bro Marat was telling me about this talented producer from NYU for a while. Let me tell you, this is after not too many successful attempts at putting the original yet to be titled album together. I finally met DB2 and took some tracks to check out that night. We had the same vision and great things started to follow.
GFM: Tell us a little bit your collaborative process for this project.
DB2: The collaborative process has been very effective since day one. Everything we've managed to do has been a byproduct of a mutual friendship that built itself organically. The same way we're able to just hang out and talk about random things without any sort of effort is also the way we make music. There are lots of ideas thrown in the air; some are executable, some have to be watered-down. In the end, we always come to a resolution. Both me and Najee try to bring out the best out of each other. It's almost like a friendly competition to see who can be more artistic but there is no loser.
NT1: First, DB2 would have the track, then I'd drop vocals, and finally we'd top it off with knockout hooks. No particular order really. The "hip-hop" flow of things.
GFM: Many would say that we are the sum of our influences could each of you tell us about an influence that we might be surprised that finds their way into your music.
DB2: I have way too many influences to accredit, but if I had to pick one it would definitely be Miles Davis. One of Miles' strengths as a musician is the confidence he exudes through his playing. Whether it is shredding bebop lines over fast changes, or playing single notes in Kind of Blue, everything Miles does through his trumpet touches you. I strive to do the same as producer.
NT1: Marvin Gaye and Héctor Lavoe
GFM: What were some of your go to tools for the production?
DB2: A good chef never gives away his recipes. I can say however that my methodology revolves around my musicianship. Outside of some sounds that I've used here and there, most of my work is sample-free. I love to find ways of creating sounds that make people ask, "where did you find that sample?" I also love combining the sound of analog gear with the fluidity of digital processing. When it comes to production, I like to honor the past, interact with the present and search for what will be the future.
NT1: iPad, a pair of headphones, and life's experience.
GFM: Najee The 1 in your opinion what makes a lyricist great?
NT1: A great lyricist has the ability to paint great pictures. Tell a story. Say something at the end of the day that sticks with the listener. A great lyricist drives emotion.
GFM: DB2 the string arrangement on "Only You" is exquisite, could you tell us a little a bit about how you constructed it?
DB2: "Anywhere" was an spontaneous idea. I thought about it as I was finishing the vocal production on "Only You". I knew I wanted it to be very dramatic and romantic but also abstract. I kept this in mind as I composed the interlude and brought it to Stefan Weiner, a phenomenal arranger and friend of mine. He then translated my idea into an executable part that was then sent to the players. The day of the recording, we had our friend B. Vaughn Sulit engineer the entire performance, which was then imposed over "Only You."
GFM: Speaking of "Only You" Najee The 1 I love the descriptive lyric of the young lady as "Two points past a dime" was that inspired by a real life encounter and which borough are we talking about here?
NT1: Shout out to the beautiful ladies in all of the five boroughs of New York. I was inspired by their elegance, which I equated with beauty.
GFM: An overarching theme for me as a listener is how melodic Settle For Greatness is… any thoughts from you all as to why a lot of Hip Hop over the last half decade or so has not embraced the melodic or when it has tried to it has been very limited in its exploits?
DB2: Melody conveys emotion. Emotion is not only restricted to anger or struggle. In hip-hop, it's not usual for rappers, specially those concerned with "street-cred", to embrace melody because they might be seen as "soft". Artists like Kanye, Drake and Kid Cudi have certainly changed that perception.
NT1: Hip-hop was created on sampling songs and melodies. This style of production is a new thing that lets rappers have creative freedom to write melodies and collaborate with producers in a new way.
GFM: What's up next for Najee The 1 and DB2?
DB2: We're already working on our next project together. We're also engaging in other projects individually. Both me and Najee have two very different avenues to explore. As we pursue these things, we intend to keep performing Settle For Greatness in New York and the US if possible.
NT1: Performing live shows, writing new music, and just evolving our craft.
GFM: What's the best places for our readers to keep up with Najee The 1 and DB2 online?
DB2: You can either follows us on Twitter and/or subscribe via Facebook. We tend to post all music-related news after they drop. You can also check our work at hitmemusic.com and the album's official site settleforgreatness.com
NT1: We love engaging with folks on Twitter (@dbdeux @najeethe1) and of course Facebook (facebook.com/dbdos and facebook.com/najeethe1)
About Najee The 1
Hailing from New York and generating buzz worldwide, Najee The 1 holds the ticket to hip hop music and cultural rejuvenation. Recently featured by The New York Times, Najee is thriving in "the golden era of the independent artist." Najee got his start as a spoken word artist on HBO's Def Poetry Jam. Since his televised debut, Najee is making his mark in the music scene with vivid storytelling, prolific writing, and a unique vocal tambour. Lighting up rooms with charisma and blowing up speakers with lyrical attitude, Najee generates contagious momentum with fans, listeners, and collaborators. Najee has worked with top producers in the game like Ski Beatz, self-released music, and appeared on a number of blogs, media and press outlets. In addition to perfecting his craft, Najee gives back to his community by teaching creative writing classes at an after-school programs in New York City.
About DB2

A recent graduate of the Clive Davis Institute of Recorded Music at NYU, Daniel "DB2" Bazan, Jr. is the new breed and definition of "multi-threat" in the music business. Composer, producer, engineer, and artist are just some of the hats that the future music mogul likes to wear. Born in Queens, and raised in the Dominican Republic, DB2 picked up his first instrument, the piano, at age 11. DB2 started playing music in local churches, cultural centers, and school choirs. After shining bright amongst his peers, DB2 honed his craft, and progressed his music education by studying jazz formally in New York City, slaying state-wide music competitions, and even performing for Mayor Bloomberg at Gracie Mansion. While writing, recording, producing, and performing with many up-and-coming artists around town, DB2 captured the attention of Swizz Beatz, and had an opportunity to talk music with him in person for a special feature by The New York Daily News. DB2 joined forces with emerging hip-hop artist Najee The 1 and collaborated on a new and buzz-worthy album called Settle For Greatness. The creative process behind the production of the album was profiled by The New York Times, during a recording session in one of Converse's Rubber Tracks studios, and by Jay-Z's lifestyle blog Life + Times, during a live string-quartet session at NYU. DB2 debuted his work on this album and shined bright like a star alongside Najee The 1 at the BET Music Matters Showcase on February, 2012, where BET asked him to join their campaign in an official capacity to embrace fans as a solo artist and a force to be reckoned with. Sky is the limit for this brand new artist.
Ivan Orr is a multi-instrumentalist, composer, performer, and writer. A native of Charlottesville, Virginia Ivan was involved with the forming and nascent days of The Music Resource Center as its first Program Director. A graduate of Virginia Commonwealth University's Department of Music, Ivan currently resides in Richmond, VA where he maintains an active performance and production schedule while serving as the Music Editor for Grown Folks Music, a position he has held since 2010.