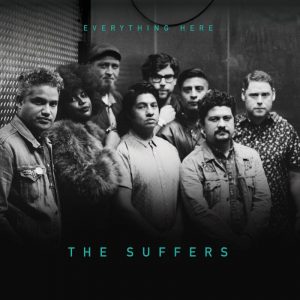 Grown Folks Music chatted with Kam Franklin, lead vocalist for the Houston-based band The Suffers. The Suffers have rocked crowds all over the globe and wowed David Letterman. Franklin talked about the commitment of the band to stay together, invaluable advice from Lionel Richie, bridging the gap with fellow Houstonians Bun B and Paul Wall and how Hurricane Harvey influenced a song on the new album; Everything Here, out NOW [preview it below]. Read and enjoy.
A Legend Speaks
GFM: What's been missing from the R&B, soul and funk game is the band. Tell us how The Suffers came together and how and why you choose to remain a band.
The Suffers: We actually had all been in different band for a while. We were doing things like reggae, ska, punk rock and a bunch of other things. We all had these fellow musicians around town that we admired and that we wanted to play with, but life kind of does what it's going to do and it was always, 'Yeah we should make music some time together. We should jam out together.' But, nobody ever did it. It took probably about 10 years before someone finally– someone being the bass player Adam and the keyboardist Patrick Kelly– was like, 'Look we've all got a little bit of free time. We wanna do this project where we do rocksteady and reggae covers of popular music. One of the first covers we ever did was "Every Little Step" by Bobby Brown. The reason we decided to do it as a band is because that's what we all started off doing. We were all marching band, orchestra and choir nerds. Being in a band was something all of us had always dreamed about. But, as far as making a living being in a band and touring the world being in a band [goes] none of us really knew how to sustain that as far as a full-time, everyday kind of thing was concerned. None of us had real examples of people that were doing that. We're here in Houston so a lot of amazing musicians come from here that have done a lot session work or have worked as solo artists, but as far as bands were concerned we didn't really have any type of examples. But we knew that we wanted to play together so that was the focus– figuring out how we could work together and how we could get stronger as a group and how we can write better songs. Instead of focusing on success and being famous and all that stuff we just focused on writing good music and getting to know each other as artists more.
As far as maintaining the band– one of the first people to tell us to stay together as long as possible was Lionel Richie. We played a show with him at the Moody Theater where they tape Austin City Limits a few years ago. He came up to us after the show and introduced himself. He was really kind [and] really supportive. He was like, 'Y'all sound great. Stay together as long as a possible. People are gonna try to break y'all up, but coming from somebody who was in a band forever [The Commodores] , it's the best thing that will ever happen to all y'all. They're gonna try. They're gonna try to make you go solo or they're going to try to tell you that you're not good enough. Don't listen to any of them. There's a reason they want y'all. Keep that in mind and know your worth.' I was like, 'Wow.' To get that advice from someone at that level that didn't know us, and we have seen him since then, but we took that advise to heart and he was right. [It was] us staying together, us choosing to get better together and us treating this band not only like a business but like a family. Acknowledging that if one of us is having issues or going through something, [then] all of us are going through something has allowed us to reach this place that none of us ever thought we would get to. I think it's even more meaningful to us because we got here together.
H-Town in the House
GFM: Talk about what it means to represent Houston as you perform all over the world.
The Suffers: It means everything to us because it's something that we never thought we would get to do. So many artists have come out of here– from Beyonce' to Lyle Lovett to even the new ones like Travis Scott or Fat Tony and Maxwell Kreme who aren't really new to people that are from here, but they've been poppin' off. We didn't have that example of a band that started from the bottom that didn't get signed to a label. For a long time people would tell us, 'You're not gonna be anything unless you move to New York or LA or one of the big industry cities.' For us, we were like, 'Why do we have to do that? That doesn't make any sense. What's so wrong about our city to where we can't find success from living here?' We almost kind of did it like a,'You know what? We're gonna show y'all.'
Every time that we hit a stage we ask the audience, 'What's the name of the band? Where are we from?' We've done this from Japan, to South America to Australia. Having people that barely speak your language say your band name and the city that you come from– for me, it makes me want to work harder so that the next round of musicians that come out of Houston, or Texas or whatever don't feel as discouraged. I want them to know that the options are limitless. They might have to work a little harder because the industry isn't as set up here as it is in some of those more pronounced cities, but if they're wiling to do the work the opportunity will eventually follow them and find them. It all of a sudden will make sense. All the work will make sense.
Bridging the Gap
GFM: How did Bun B and Paul Wall get involved with the album?
The Suffers: [Laughs] We first met Bun I wanna say maybe almost four, maybe five years ago. That's not the first time that I met him, but the first time the band worked with him. It was for tenth anniversary of a very popular sneaker store down in Houston that's also based in Brooklyn called Premium Goods. The idea was to have the band to perform for the anniversary party and then Bun B come out as a surprise and do three of four of his songs. For that event we learned "Draped Up", "International Players Anthem" and "Get Throwed". It was such a surreal experience for us with all of us being lifelong Houstonians that grew up on UGK and respected him immensely. It almost felt like we were graduating as local artists were concerned into this new circle of OG rappers that work in a realm of greats that I really haven't seen in other areas of hip hop.
From there we actually ended up doing a festival, maybe six months later, called Free Press Summer Festival that's no longer around, but it was in Houston. They had this event called Welcome To Houston. The year prior it had been nine famous rappers that were from Houston that came together for one night to perform, but they performed with a DJ. It was Bun B, Paul Wall, Slim Thug, Z-Ro, Geto Boys, Lil' Keke, Devin The Dude, Mike Jones and Lil' Flip. Those dudes did their thing, but then the next year they said wanted to go bigger so they were like, 'Let's get a band.' Originally the festival was like, 'Oh yeah, we'll put a band together for you.' Bun B was like, 'No, I wanna use The Suffers. They know my music.' When it came to everybody else those rappers had no idea who we were. We'd just played [David] Letterman for the first time but playing in front of an audience like Letterman and playing in front an audience like all these rappers… unless you're being played on the radio, a lot of times they're not going to know who you are. That was the case.  A lot of them originally was like, 'Oh yeah, the backing band.' I'm like, 'Wait, no.  We're learning all your music by heart. We have our own jobs. We're not doing this out of this being a fun thing. We're doing this for the challenge and for the opportunity [laughs].'  Some of them were a little confused, but Bun, Paul Wall, Z-Ro and Devin especially were super adamant about making sure that not only we got their music right, but about making us feel included as peers and just as a backing band. Since then, Bun has been this quiet mentor for me and the band whenever we cross paths.  We've performed together quite a few times since then and every time he blows our minds with how amazing his is.
Video Credit: FPTV News
The Conductor
With Paul, he's one of these people that is always everywhere. He's always somewhere working… performing, networking, whatever, and he has all these businesses. Getting that face time with him sometimes is really hard, but he promised, 'I'm going to make it work. I'm going to make it work.' When it came to the album both of them were like, 'Okay, let me hear the music and I'll write some verses.' I said 'I love y'all so much as artists. But, the intent here is not for y'all to rap.' What I love about most about both Bun and Paul Wall is who they are as people and their personality. No matter what they're doing, they can get a crowd excited… no matter what the circumstances are. When we came to Paul's studio for him to do his part, I told him I wanted him to kind of serve as that role that Bernie Mac was on those early Kanye [West] albums where it was kind of like an interlude, but also like a palate cleanser for what was coming next. Paul serves as the introduction to the album, and he serves also as the, 'Y'all doin' alright? Anybody need anything else? Can I help you?' Just kind of checking in on you to make sure you're ready for what's about to come next. He serves as the conductor for the shift change in the emotion of the music on the album.
"Sexual Chocolate Style"
As for Bun and Bun singing on the album, we were just kind of jammin' around when we were working on a set that we had coming up with him. I think we were working on "Get Throwed" or something and he just started playing around and singing on the mic as the guys were playing this kind of "Sexual Chocolate" style music. He was singing to his wife Queenie. Usually when you see Queenie, she has a very solid look. You don't really know if she's having a good time, a bad time, or what. She doesn't usually share that much with people she doesn't know. But, when Bun started singing to her, you just see the biggest smile on her face. She's laughing and he's laughing, but he's committing to this. I said, 'I know it sounds really stupid, but I want you to sing on this album and not in a jokey way. I want you to commit to this.' He was like, 'You really don't want me to rap'?' I said, 'No, I want you singing.' So, he's singing and we added all of these… I think they reminded me of the Isaac-Hayes-Blaxploitation film soundtracks where it was just the over-dramatic female background vocals and this baritone voice would come through. He, at first was like, 'Are you serious?' I said, 'I swear to God on my mother I am serious.' He came through and did two passes of it and that was it.
Me and my home girl came through and added all of the background vocals after the band did their thing. We had this dude come in and play some really crazy jazz flute on it. I just wanted it to be obnoxiously good. I know that what we do makes us feel good, but when people listen to this album, and when they listen to that interlude especially with Bun, I want them to feel the exact way that I do when I see him performing. It's not so much about what he's saying as much as it is who he is. You can sense that aura on the record like, 'I don't know why I'm kind of uncomfortable, but also really excited at the time.' That's what he does to people. We're so happy to know that they respect and appreciate us enough to come through and give us their time, but the feeling is mutual. Whenever we have the opportunity to work with either of them we always try our best to make it work.
Silly Lockdown Songs/"After The Storm"
GFM: Hurricane Harvey occurred during the making of this album. How did that influence the album?
The Suffers: Hurricane Harvey was awful. Luckily, no one in the band had any severe damage. Somehow the studios both miraculously kept up so we were able to finish and record on time. At times it made things harder. Your mind is focused on what's happening out there… trying to figure out what you can do. But, at the same time it was a much-needed distraction after weeks of cleaning and volunteering and going a little stir crazy– 'cause that's one of the many things that happens after a storm like that.
If you don't have something to do, the boredom gets crazy. I'm talking little kids at your grandparents' house with no internet. 'No, you can't go outside.' Just boredom, so you've got to make up your own games kind of stuff. Luckily, one of my home girls was in town and she was like, 'Hey, come over. We can drink. We can smoke. Whatever.' We both forgot that the curfew had taken effect in our neighborhood in well. She's a musician as well. She appears all through the album as well helping out with the vocals. She had a piano at her house. One of those OG organs that are actually called Fun Machines. We went Facebook Live and we went on YouTube and made these really songs about keeping people happy during the hurricane. We were drunk, so they ranged from songs about how the weed man in the hood will still deliver during a hurricane so keep your head up, and we wrote this song called "After The Storm". People that haven't heard this song on the record and just see the name automatically assume that it's this deep, sad, song about Hurricane Harvey. But, it's actually about trying to have sex and get lucky during Hurricane Harvey. Hurricanes and most natural disasters send people into this state of craze where they're alarmed and they're scared. A lot of times they want to do nothing but hook up with somebody to feel safer and get really drunk because they're usually pretty sad about what's happening. This song was about a fictional neighbor and making a move on said neighbor because he's cute and lives next door. Just saying, 'Hey, I wanna see you after the storm. I know it might seem like a fling 'cause it's a hurricane. But, no really, I wanna see you after the storm.'
When I presented it to the band at first I think they thought I was a little crazy. It sounds great and it ended up working out really well. The sounds that we use on that particular song are so different… just a different vibe from what we usually make, but because it's still us it's cohesive and falls in line with everything else happening on the album. While Harvey was really, really sh***y, I am happy at the creative outlet that came from it.
GFM: What is your definition of Grown Folks Music?
The Suffers: Grown folks music is timeless music. Music that no matter what year it comes out– be it something that came out in '77 or something that came out in 2007– it makes you feel a type of way. It takes you to another place. I feel like if I listen to Frankie Beverly and Maze's "Happy Feelings", I think about things that just bring me joy. If I listen to "For The Good Times" by Al Green, I think about the last thing that broke my heart. With our music I think about things that I'm grateful for that really aren't that bad like bills or people that don't appreciate me, or jobs in the past that didn't appreciate me, but knowing that if I bet on myself I'm going to be just fine. Grown folks music is that music that gives you that break that you need when life isn't going the way that you would like it go. But, you know if you turn on a song and you kind of close your eyes and just get into it for a second, you're going to be fine.
Follow The Suffers
On Facebook
On Twitter
On Instagram
Preview Everything Here from The Suffers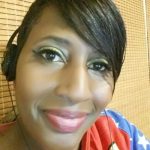 I ask questions of your some of your favorite artists.